Earlier this year, you may remember I drove the DS 3 Crossback, and my first impressions were positive, but that was when I drove the petrol versions. What it this boutique-inspired car like when you drop in PSA's 1.5 litre diesel? Keep reading to find out.
Why should I want the diesel?
DS predicts that only 5% of buyers will opt for this engine, so you may asking why should you even bother with it. Well for starters, as you would predict, it will offer the highest amount of economy for the 3 Crossback as it offers up to 62.7mpg on a combined run. In my experience I was getting 70 (that was on faster routes, though) and in regard to emissions, you're looking at a figure as low as 97g/km, which gives this car a BIK rating of 22%.
The other reason why you might want to go for the diesel is the gearbox – this engine is mated to a 6-speed manual gearbox, whereas the PureTech 130 and 155 engines are automatic only. It is worth noting that you can have the PureTech 100 with the manual gearbox, though.
One more reason for opting for this 1.5 litre diesel is its torque. Out of the four engines available, it offers the highest amount of torque with figure of 250Nm, but I suppose that will come as little surprise to you with it being a diesel. In regard to power, this engine kicks out 102hp, making it second less powerful engine in the four-strong line up.
How does it actually drive?
That's all good and well, but I'm sure you want to know how the engine actually drives. Let me give you some performance figures to kick things off. 62mph comes in 11.4 seconds, and if the mood takes you – and it's legal – you can hit a top speed of 112mph. It may not offer a lot of poke, but I wouldn't say it feels underpowered by any means, especially as you have that decent amount of torque to help push things along.
The diesel engine is pretty refined, it's not coarse, and it doesn't clatter about when your right foot meets the carpet. It's not perfect however, as you are likely to notice vibrations resonating through the pedals, the steering wheel and the gear lever.
Speaking of the gear lever, what's the gear change like? If you're a regular reader, than I'm sure you are going to guess what I'm about to say. Like other PSA group cars I've driven, it's a bit notchy. However, what I will say, is that it does feel a bit slicker and a tad smoother. Speaking of smooth, the ride, it's superb. The DS 3 Crossback glides over the tarmac in way that some small SUVs simply cannot match.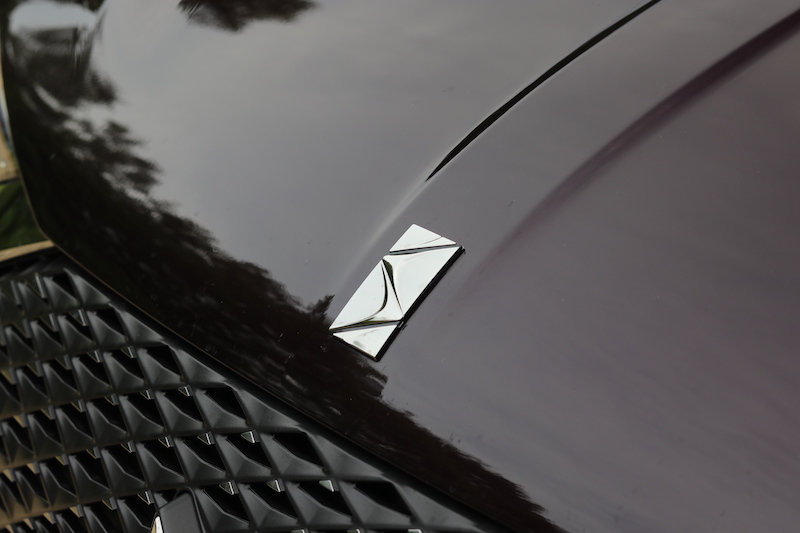 There is a bit of a caveat here, though, stick with the 17″ alloys. I've driven a model fitted with the 18s and although the ride wasn't bad enough to rattle my internals, there was a noticeable difference. Also, you're more likely to scuff bigger alloys, so bear that in mind before you pick your desired model.
This obsession for comfort does mean the chassis suffers when you meet it with a corner, but I'm sure this won't come as a surprise to you, and there's a good chance you don't care. There's body roll to contend with in the corners, and the steering has little feedback, although I will say it is reasonably direct. On the whole, the handling is fine, but the Q2 is more accomplished in that area.
Making diesel sexy?
Let's put the brakes on for a few moments and discuss how the DS 3 Crossback looks. Well, I say discuss, you can't respond to what I'm saying, not in a live situation anyway, but I digress. When I first featured this car on the website a few months ago, quite of you weren't keen, but maybe a few more pictures may just swing it for you…
Ok, so you may not be convinced, but I like it, it's different, it's distinctive, and it's (cliche alert) Avant Garde. You have LED running lights inspired by pearls, flush fitting door handles like you get on a Range Rover Velar, and tapered LED headlights. I must admit, though, I don't much care for this design here.
It's like the designer got designer got distracted. "Oi Dave, do you fancy a coffee?" "Yeah, alright then". Ok, there's a good chance the designer wasn't called Dave, and there's an equally good chance he doesn't speak like that. Hopefully you get my point, though.
I like the inside as well, although some will call it fussy, and I can understand why. However, you step in and feels like an occasion. It's like walking in to a fancy boutique that sells nothing you can afford, yet you look at the pricetags of some of the items to pretend you actually considering buying them.
In the cabin there's squidgy, pleasing material, interesting geometric shapes, and intricate stitching. You want to know something, it took DS a year to get the stitch right before it could be industrialised.
How much will you need to cough up for this motoring fashion accessory?
The DS 3 starts from £21,555, ranging through to £32,455, with five trim levels currently available. Granted, some of you may think that's a bit steep for what you may think is essentially a tarted up Citroen, but you do get more kit for your money. The model seen here, is the Prestige, which sits in the middle of the line-up, and is likely to be the most popular choice for buyers.
It starts from £24,955, offering standard features such as 17″ alloys, rear lights, flush fitting door handles, black leather seats, 10″ touchscreen with 3D navigation and smartphone connectivity, front and rear parking sensors, dual zone climate control, keyless entry, tinted rear windows, and a good host of safety features including lane keep assist and lane departure warning.
The car on test is a bit more, though, as I have the diesel engine, meaning it would start from £27,105. As well as the diesel engine, this car also has a few options, such as the a Whisper Purple paint (£550), black roof-lining inside the cabin (£950), white roof (£200), advanced city pack (£1,200), and the premium safety pack (£850). In case your fingers haven't been able to keep on a calculator, the total cost of the car is £30,850.
That may seem like a large chunk for this car, but an Audi Q2 spec'd to a similar level would cost you around £33,000, so that's something to think about.
What about space and practicality?
Now, the DS 3 Crossback may be cheaper than a Mini Countryman and an Audi Q2, but it's not as big, meaning it's not as spacious. So if you looking to get the most space for your money in this area of the market, I'm afraid the DS 3 Crossback won't quite cater for you. However, that's not to say it offers less space than an envelope.
Yes, the boot is smaller than the Q2 and the Countryman, but I wouldn't exactly call it small, as it offers 350 litres worth of space. There is a bit of a step in to the boot, though, so if you have heavier items you want to put in, such as an artisan cabinet, you may find that a little annoying.
If you need more space, you can fold down the 60/40 seats like so to give you 1,050 litres, but unfortunately, the seats don't fold flat. There's no 12v socket to be found in the back, and the boot floor is not adjustable, but you do get a spare wheel as standard.
Let's move in to the rear now; as always, the driver's seat was set for me, I'm 6'2″, so needless to say, I'm a taller chap. The space left behind isn't amazing, but it's enough for me to be able to get comfortable. Knee room is pretty tight, but legroom is agreeable enough, and the same can be said for the headroom. The black roof lining does make the rear feel rather dingy, though, and that's not help by the design of the tinted rear windows, which don't allow a lot of light in.
Fitting three adults would be a bit of a tall order if you ask me, but three children shouldn't be too much of an issue. There's no armrest in the middle seat, which is a little disappointing, nor are there any charging points back here. You do get doorbins of course, but they're overly big, although you can fit a 500ml bottle of water in them.
So, to finish with the front. As you would expect, there's a few cubbies to be found, although not all of them are that big. Yes, you can fit a 500ml bottle of drink in the doorbin, but I wouldn't say the doorbins are particularly gargantuan. There's two cupholders in the middle and there's a slot when you can store you phone as well as charge it because this model has a wireless phone charging pad as an optional extra.
The compartment underneath the centre armrest does offer a decent enough space, but the same can't really be said for the glovebox as it's pokey, much like other cars in the PSA Group. This is because the fusebox gets left where it is when the cars are made for the right hand drive market – thank you.
Getting a good driving position ought to be easy for most, but for me I actually find it a bit tricky. My driver's seats is 6-way electronically adjustable, and the steering wheel adjusts for rake and reach, but I find the steering wheel is still a little too low when I have it set to its highest.
I could lower my seat, but then I find my knees are at an uncomfortable angle, so for me in particular, it does feel a little compromised. Shoulder room is fine in the front, but I would personally want a little more elbow room as there have been times where I've bumped elbows with my front passenger.
How safe is it?
As standard, the 3 Crossback offers safety features such as 6 airbags, autonomous emergency braking, speed limit recognition, intelligent speed adaptation, lane departure warning and lane keep assist. The standard car gained four stars from Euro NCAP, but it can be upgraded to five if you add more safety features.
In fact, the car tested here has got a few more safety features. So, I've got blind spot monitoring, adaptive cruise control, and extended traffic sign recognition. This model also has the LED headlights, so it means I get auto high beam as standard.
Final thoughts
I think there is a fair amount to like about the new DS 3 Crossback, but I imagine the looks won't be for everybody, but at least it's distinctive so it stands out in a crowd. As well as artisan styling, it also features a comfortable ride, good levels of refinement and a generous amount of kit and safety.
The only drawbacks are the fact that it's not as spacious as other cars in its class and I think some buyers may be hesitant to put this amount of money in to this brand as opposed to Audi, or Mini, but DS is all about being different, and the 3 Crossback is a perfect example of that.
Car Obsession Rating: (4 / 5)
Pros:
Stylish (to me, at least)

Decent value compared to rivals

Very frugal when chosen with this engine

Comfortable

Interior feels special
Cons:
Lacks space compared to rivals

Rear feels dingy

You have to pay more money to higher safety rating

Won't have badge appeal compared to Mini and Audi
Rivals
The Countryman is a bit of a liar. You see, it's not a Mini at all – it's massive. However, this means that it has loads of space, and it dwarves the 3 Crossback in comparison. Buyers may prefer the less fussy styling and also the Mini badge. It will cost you more money, though, especially when you start ticking options.
The Audi Q2 is a small SUV that looks as sharp as a scalpel, with a similar kind of drive. I reviewed it while back and I thoroughly enjoyed it. The interior may not be as special, but it's cleaner than the DS 3 and we all know how well Audi do interiors. It also offers a bit more space, and it has an Audi badge, which for some, will be enough to swing it. Like the Mini, though, the badge comes at a premium, especially once you add options.