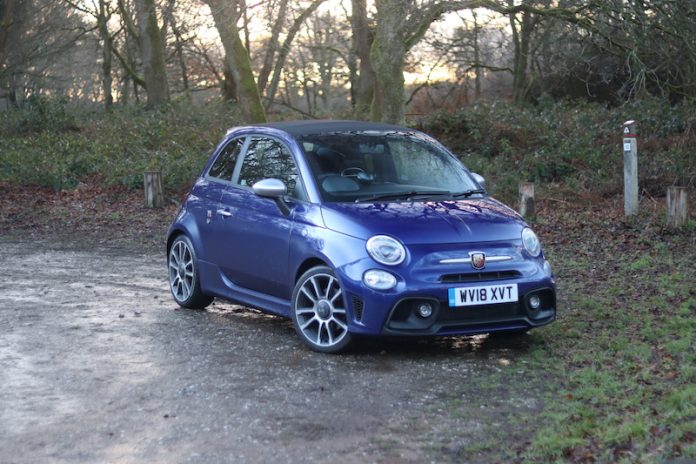 At first glance, the Abarth 595 looks like a standard FIAT 500, and too many of the uninitiated, it is. However, look closely and you'll spot the iconic scorpion badges, a swollen body kit, chunky alloys and a fruity double exhaust sitting proudly within a rear diffuser. These sporty looks aren't just for show, though, because underneath the small but perfectly formed bonnet you have a small firecracker.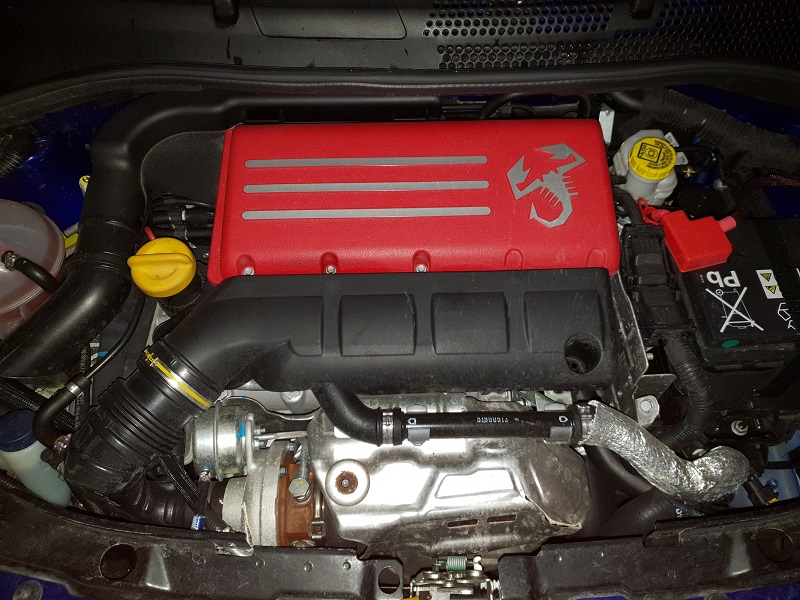 More specifically, it's a 1.4 litre turbocharged four cylinder petrol engine which kicks out 165hp with 230Nm of torque. This power is fed to the front wheels via a 5-speed manual gearbox, and if you work it quickly enough, you'll get to 62mph in 7.3 seconds and continue to a top speed of 135mph. Not bad for a car that's about the same size as a ruck sack.
Now because it's a small car, it's tight on space, it has rear seats that are only useful for borrowers, (ok, I know, I'm exaggerating), and the boot is about the same size as a Kangaroo's pouch. Ok, once again, I'm exaggerating, but with a capacity of 185 litres, it's far from gargantuan. Anyway, that's enough of practicality for the time being, that's get on to the juicy stuff – driving.
What's it like to drive?
As mentioned earlier, this hot city car kicks out 165hp, but if you pine for more power, you can get the more expensive Competizione model, this gives you 180hp. Or, if you feel as if you don't need this much power, you can go for the standard 595 which offers 145hp, or the Trofeo, which offers 160hp.
As I also mentioned earlier, this car is fitted with a 5-speed manual gearbox which has secure enough changes which are pretty sweet, but I would want the throws to be a little shorter. The clutch pedal has got a nice firmness, though, and the pedal placement is well set up for heel and tow downchanges. The pedals also look like they've come out of an old school rally car, which is pretty cool. I also like the way the gear lever is set quite high up the car, and the gearknob falls nicely in to hand, although it gets cold on winter mornings.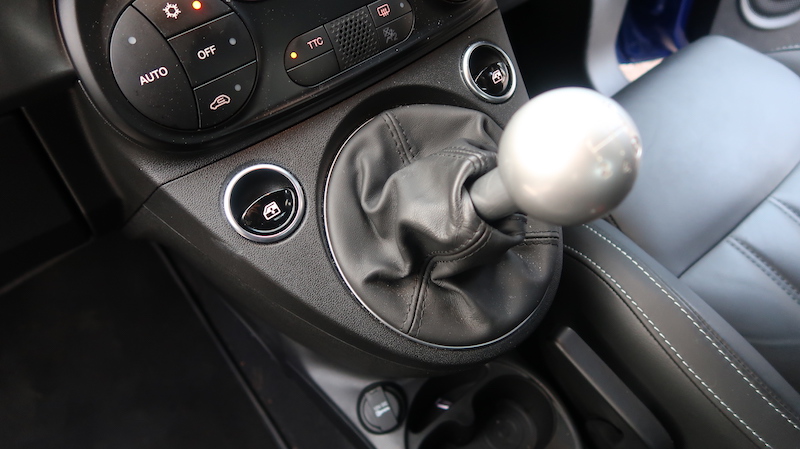 The 595's performance is pokey and punchy, but it's not without lag. Peak torque comes in at 3,000 revs, and it's not until about 2,500 revs that you start to feel the Garret turbo spooling up. Once you get the car on boost you'll find it's pretty fast, almost deceptively fast, given the car's small dimensions.
The car in its default setting is spicy enough, but in case you want a bit more, there's a Sport button the dash. Press it, and you'll get a greater throttle response as well as a satisfying firmness to the steering. Mmm, I like that. I like that a lot. It also offers more feedback in the corners, which can only be a good thing.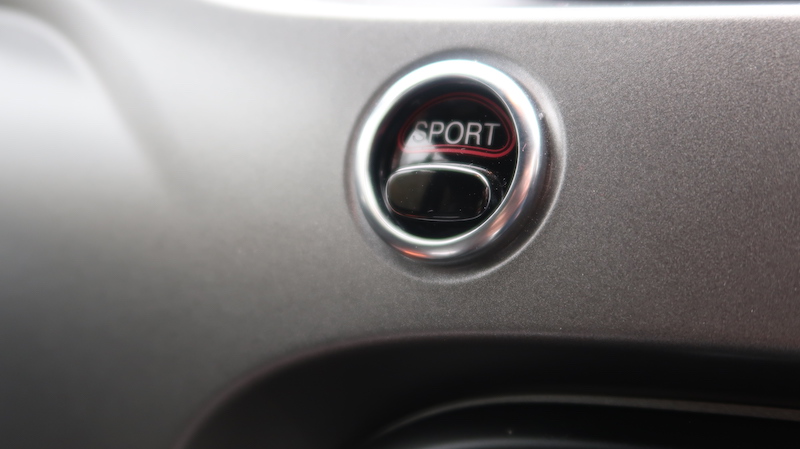 Speaking of corners, what it is like? If you've read any of my reviews I've written with other Abarths, you'll know that I have commented that the handling feels one-dimensional. That point still stands; it's not a bad handling car, but it doesn't offer up much adjustability and because I'm lacking a fixed roof, it's not as rigid as the hatchback.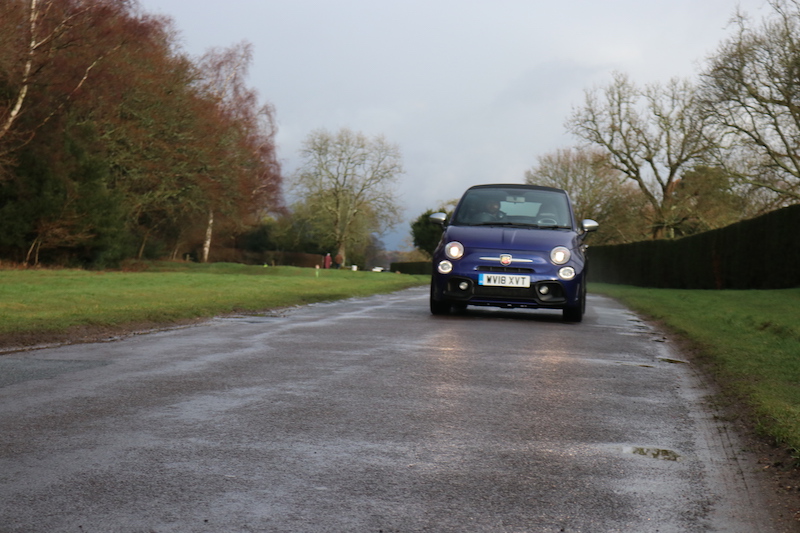 Does it feel floppy like a jelly? No, it doesn't, but you can sense it's not as taut. Push the car hard and you will get a bit understeer as well, which is surprising given the car's short wheelbase, but not quite as surprising as the poor turning circle this car has.
One button changes it all
You'll be pleased to know that there is a way to combat the understeer, and it's a small, nondescript button marked 'TTC'. Press it, and you're greeted with a message on the TFT screen which reads 'TTC Connected', leading you to think it's something to do with the infotainment system, only it isn't.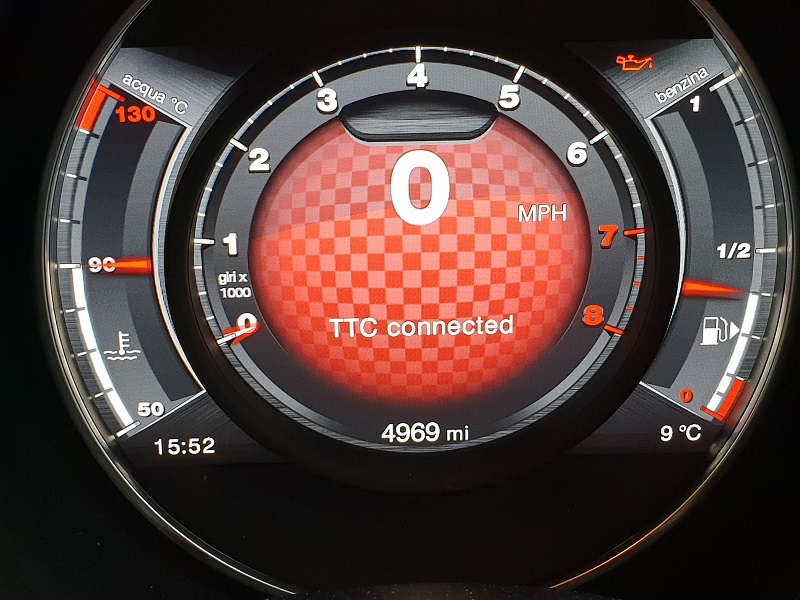 That's because TTC stands for Torque Transfer Control. In essence, the system works like an electronic diff, giving better handling in the corners. The system brakes the inside wheel when cornering to give you a tighter line, and it also gives the front wheels better table manners, so you get less wheelspin and less torque steer. In truth, it transforms the character of the car, it's just a pity this system is not automatically engaged when you select Sport mode…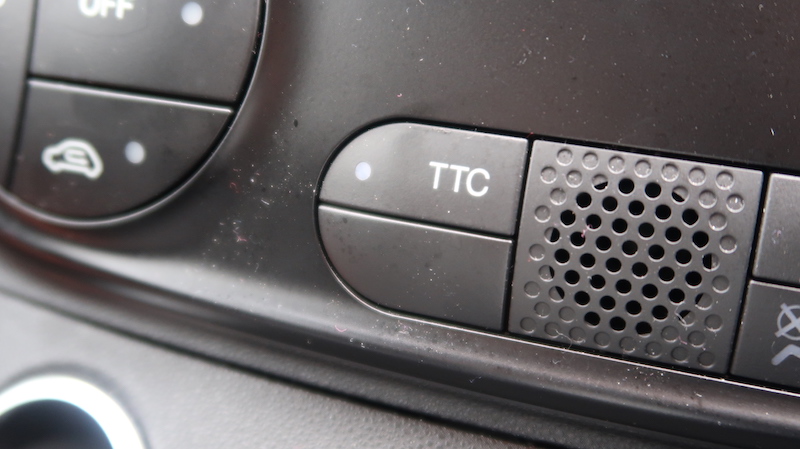 The downside of having a car that handles well in the corners is a poorer ride. Now, before you write in and complain, yes, I know, this is a sporty car, therefore it's bound to be firmer. However, even for a car of this type, the suspension is firm, bordering on hard. Some Abarth owners out there may just think I'm a big wimp, but I've a fair few sporty cars and this is definitely one of the firmest.
Granted, at higher speeds, it's not too much of an issue, but at low speeds the ride is so lumpy that it makes old porridge feel more like a smooth yoghurt. Thankfully, the Turismo is designed to offer better comfort, therefore as standard you get stylish leather seats, which are comfortable to sit in – trust me, I should know, I drove this from London to Scotland and then back again – but they are sat too high up for my liking. As a result, the driving position feels more like an SUV as opposed to a hot hatch – well a hot cabriolet in this case.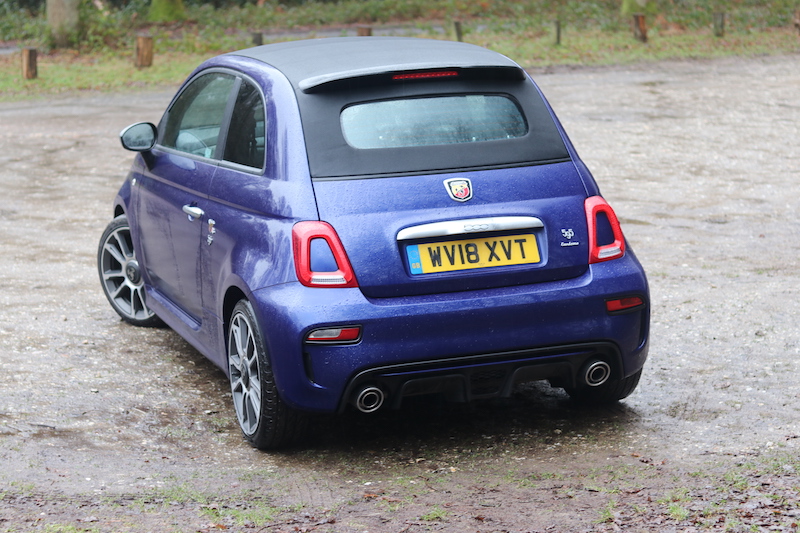 The suspension has FSD technology supplied by Koni, which is also used in the sporty Vauxhall Corsas. FSD, in case you are wondering, stands for frequency selected damping. In simple terms, it means that the dampers react to driving conditions. When braking and cornering, the shocks work at a low frequency, which gives better stability, whilst on poor road conditions, the shocks work at a higher frequency to give better comfort. Does the system work? Hmm, jury's out.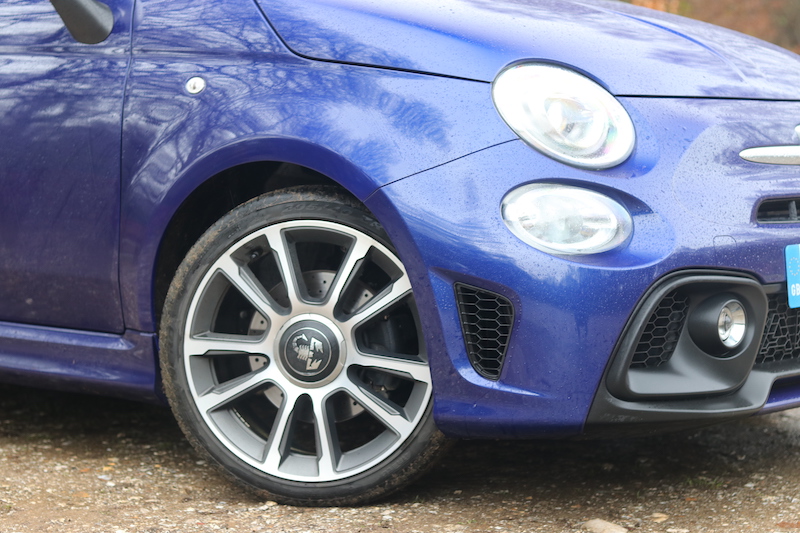 One thing a jury can be certain on, is how good this car sounds as you drive along. The 595C makes a good noise as you make progress, despite the lack of the Record Monza exhaust, which is fitted as standard to the Trofeo and Competizione models. Sadly, the exhaust noise does seem a bit muted with the roof and windows up, but that soon changes once you expose the car to the elements. It sounds pretty good on a cold start, too, and it's noisier than you may expect.
As much as the 595C is fun, it does have some annoying quirks…
Right, I've got a bit of a long list, so bear with me. In fact, you may want to put the kettle on and grab a cup of tea for this segment. Let's kick things off with the seats; as I mentioned earlier, they are perched too high up, and even with the seat cushion set to its lowest I can't find a comfortable driving position.
This is not helped by the fact that the steering wheel adjusts only for rake, meaning I've had to drive with my legs slightly open, which gets desperately uncomfortable after a long journey. The door bins aren't particularly massive and due to the design of the door card and the seat, when the door is closed, you can't reach things are one of end of the doorbin. Very annoying.
The touchscreen doesn't respond very well to sun glare, which is far from ideal, given that this is a cabriolet, the gearknob gets in the way of some of the climate control buttons when the car is in first, third or fifth, and the handbrake is precariously close to the lever to adjust the height of the seat.
I suspect this is the result of the car being converted from left hand drive to right hand drive. I may be wrong, but even so, it seems silly, and the footrest in the driver's footwell is only useful if you have dainty feet like a ballerina. The dashboard squeaks as you drive along, which points to poor quality and the headlights steam up too, which again, points to poor quality.
Just to finish off my little moan, I want to talk about the infotainment system. As standard, you get a 5″ UConnect system, but the model you see here has been fitted with the optional 7″ UConnect version, which has navigation supplied by TomTom and it also has smartphone connectivity. This all sounds good, and the display is pleasing enough, but it can be frustratingly laggy.
A big price tag for a small car
There's also the issue of price. The FIAT 500 is not the cheapest car going, thanks to its trendy, stylish image. Sadly, this also translates to the Abarth 595, as the model here is a fair bit over £20,000. What do you get for your money?
As standard, you get the chunky Abarth styling, 17″ alloys, double exhaust, black leather seats, 5″ UConnect system with DAB radio and Bluetooth, 7″ digital driver's display, dual zone climate control and rear parking sensors. This seems pretty good, but there is better value to be had out there, as well as cars that offer more space.
Whilst I'm talking about the more boring bits and bobs, let me touch upon fuel economy. The Abarth isn't quite as thirsty as you may think, which is just as well, as the fuel tank is pretty minuscule – it's 35 litres, in case you're wondering.
On a combined run, Abarth states that you should get up to 47.1mpg, and my experience I've been getting around 40, although that will soon drop once you plant your right foot in to the carpet, of course. In regards to emissions, this car emits 155g/km of CO2, meaning you'll be required to pay an eye-watering £515.
Is it safe?
Safety is likely not to be the highest priority when it comes to buying this car, which is just as well, as it scored only three stars from Euro NCAP. Adult occupant safety was scored a mediocre 66% whilst child occupant safety was scored even lower, with a score of just 49%. As standard, buyers will receive seven airbags, electronic stability management and hill hold assist.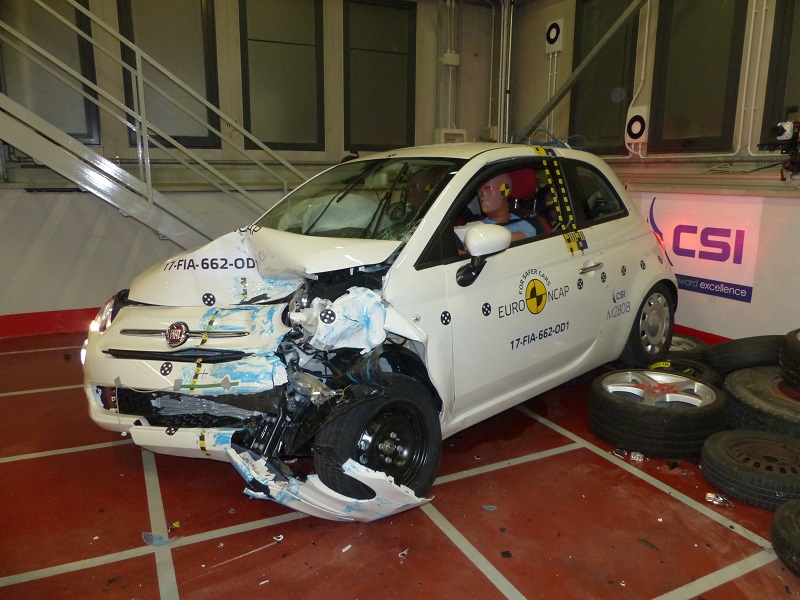 Final thoughts
The Abarth 595C is funny little car. It's got bags of character, arguably the best in class, and it's definitely able to paint a smile on your face. However, it can also be as frustrating as it can be fun and as much I've enjoyed this car for a week, would I want to live with one? Would I go out and buy one with my own money? No, I'm afraid not.
Is that to say it's a bad car? No, not by any means, but it simply isn't the best car car in its class, but if you can live with its flaws, you could well find it's the most characterful. Think of it like owning a puppy or a kitten – it may crap on your carpet and ruin your best shoes, but there'll be many moments when you look at it, and you'll love it. If you can live with the flaws then I think the Abarth could be well be a car you have for life (well, for the sake of this metaphor, at least), not just for Christmas.
Car Obsession Rating: (3.5 / 5)
Pros
Good looking car

Bags of character

Sounds great

Strong performance

Good amount of fun to drive

Wind in your hair driving

Not too thirsty in regards to fuel
Cons
Pricey to buy

Not the most practical

Firm ride

A fair few frustrating flaws

Laggy infotainment system

Interior is cheap in places
Rivals
Mini Cooper S Convertible
The Mini Cooper S convertible is the clear rival for the 595C, and it has an equally stylish image. However, the interior is nicer, and more upmarket, plus it's a proper convertible as opposed to the 595C's retractable soft top. However, the Mini can quite very costly if you go too mad with the options list. I had a quick spin in one a few years ago that was over £25,000!
The Fiesta ST is not a conventional rival for the 595C per se, but if you a small car that packs a punch and is fantastic to drive then you can't rule it out. Not only is it faster than the Abarth, but it's more practical, it's safer and you get more for your money. True, you can get a convertible version, but there's always the option of a sunroof…
Find the Fiesta too big, or you want something a bit more budget conscious? The up! GTi could be worth looking at, as it undercuts the three cars above quite significantly. Yes, it is down on power, but if you're after a smart city car with an injection of performance and tasteful, understated styling, the small VW with the funny name could be for you.