Bang! This is how the last Fiesta ST entered the world; it was bold, aggressive, and it definitely wasn't here to play games. This was a car that slayed its competition to become the best hot hatch in its class and arguably one of the best hot hatches of all time. Like all good things though, it had to come to an end.
Going soft?
It's OK though, because there's a new one, but on the face of it, it looks to have gone a bit soft. Long gone is the aggressive rear end, it's dropped a cylinder, and if truth be told, it could be mistaken for an ST-Line. So it's no good then? Well hang on a minute, you know what they say, you should never judge a book by its cover. So then, time to get reading, well driving…you know what I mean.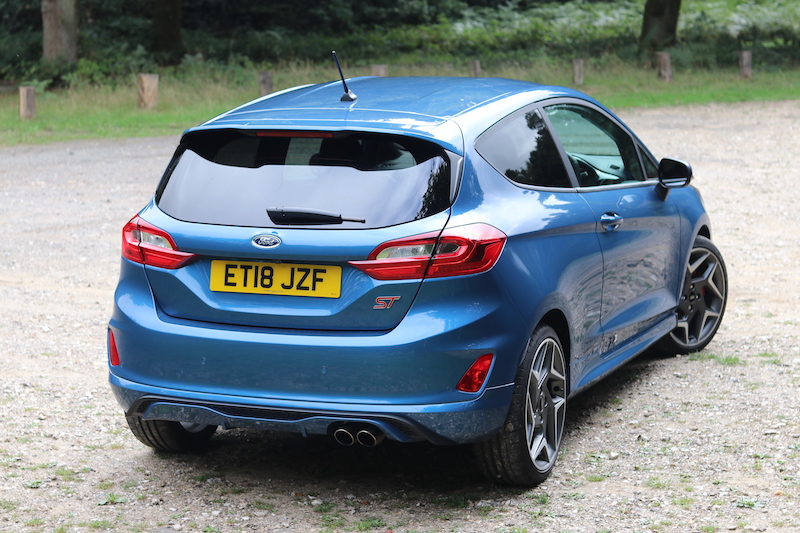 Push the start button and you'll greeted by a meaty burble, which sounds almost impossible from such a small engine. Place this pocket rocket in to Sport mode and you'll ears will prick up as the exhaust valves open and things really start to get interesting. On noise alone, Ford has smashed it with the new ST. It's simply so much better than what went before.
Small package – big things
The new Fiesta ST may have lost a cylinder, but this 1.5 litre three-cylinder EcoBoost engine is actually more powerful than the car it replaces – well if you take overboost out of the equation of course. 197bhp is chucked out from this unit, with 290Nm of lovely torque. Work the 6-speed manual gearbox quickly enough and you'll hit 62mph in just 6.5 seconds and you'll max out at a top speed of 144mph. It's true what they say then, big things come in small packages.
Not only does it have 50 extra Nm of torque, but the overall torque is delivered over a wider rev band, which is good in a sense as it means it's a bit more linear, but there's not as much reward as revving the nuts off it like the last car. It feels more grown up and refined, but I suppose the exterior should have proved as a bit of warning.
So has the new one given up? Is it ready to retire, put on some slippers and stare longingly out of window just waiting for death to come? Not a ****ing chance.
What about the handling?
The new Fiesta ST may be a bit more well-rounded than its predecessor, but it's still a little firecracker. It's still able to provide a drive that's able to get your pulse racing and your smile beaming. It's as good as it's ever been in the corners, and the new model has kept its ability to chucked in to a corner with gay abandon.
Better still, Ford has been kind enough to fit this particular model with the optional Performance Pack (£850), meaning you get a factory fitted Quaife limited slip differential, so you get more grip in the corners, and let me tell you, this thing sticks to the road like chewing gum sticks to your clothes. You can really feel the car pulling itself around corners – it's fantastic!
The car feels nimble, and the front end is as quick to react as a playful kitten. The ST darts in to corners brilliantly, and there is plenty of confidence-inspiring grip thanks to the Michelin Pilot Super Sport tyres that are to be found at each corner. The diff helps as well of course.
Performance Pack isn't all it has…
The LSD is not the only thing the Performance Pack offers; it also offers launch control, and a pretty light to tell when you need to change gear, in case the loud revving noises are too subtle a clue for you. I love the fact that the performance pack comes with an LSD, but I'm not sure the launch control and shift light are really needed.
The Performance Pack may be optional, but as standard the ST receives a small selection of driving modes; Normal, Sport and Race. As you can imagine, the car becomes more intense and aggressive as you go up through the modes, although Ford does state that that Race should be used for the track only – spoilsports.
The car's default setting is 'Normal' but I'd imagine most of your time will be spent in Sport mode, especially as you get those lovely pops and burbles from that exhaust. In terms of how this car drives, I would definitely say Sport is the happy medium, it's the place to be, although there is nothing wrong with the other driving modes.
What about the boring, everyday stuff?
So, it's a fast car, but a car like this needs to be practical. This an area where it's so-so. Like the standard Fiesta, the ST is rather tight in the back, and it doesn't have the biggest boot in class. However, it still has enough space to be a competent daily driver, so long as you aren't looking to carry taller adults in the back on a regular basis. If it's children that are going to benefit from the ST's sporty drive, then that's fine as there ISOFIX points.
What about cost? Like the previous ST, the new one is available in three trim levels, ST-1, ST-2, and ST-3. ST-1 starts from £18,995, and is able to offer 17″ alloys, sporty, Recaro seats, air conditioning, 6.5″ touchscreen with DAB radio, Bluetooth and smartphone connectivity, plus you get cruise control, sports suspension, selectable driving modes, keyless start and lane keep assist.
Pay a grand more and you'll get the ST-2 model, which is able to offer climate control, rear privacy glass, heated front seats, blue detailing on the interior as well as a 8″ touchscreen and B&O Play sound system.
Last but not least, you have the ST-3 model, which is the one I have here. It's priced from £21,495 and has key features including 18″ alloys, navigation, automatic lights and wipers, red brake calipers, reversing camera with rear parking sensors, heated steering wheel, and silver and grey detailing in the cabin. Interestingly, the ST-3 doesn't have the B&O Play sound system as standard; it's an optional extra, which has been selected for this car.
Speaking of options, this model has the Performance Pack (£850), Performance Blue paintwork (£745), full LED headlights (£600), blind spot assist (£475), as well as the aforementioned B&O Play (£350), so the model here would cost you £24,515. As is often the way with car trim levels, the mid-range one the sweet spot if you ask me. It's what I like to call the "Goldilocks" trim – it's not too basic but it's not too expensive. Hmm, I fancy some porridge now.
There's no time for porridge though, as it's time for the ST to sow its oats a bit more.
Tell me more…
It's about time I mention the 6-speed manual gearbox, as this is an important aspect of any hot hatch. The ST provides a sweet change, but it doesn't feel quite as clinical as the last ST, and it doesn't quite snick in to place as much as before. The pedals have got a good weight to them though and the placement is good enough for heel and toe, although there's no rev match function. That's fine with me though because to quote a line from Skyfall, "Sometimes the old ways are the best".
The brakes are also strong, the steering has a more satisfying weight than the old model, although it's still not perfect in regards to communication, but you'll probably be having too much fun to care. The seating position is also lower than the last model, which many will be thankful for as you now feel like you're sat in this car rather than on it.
The seats remain as good as the last car, if not better. They provide a great blend of comfort and support, plus they have a heating function for when it gets a bit nippy. The ride remains firm of course, it's a hot hatch after all, but it's more composed than the last model and I definitely think it'll be easier to live with day-to-day.
It won't cost you the Earth to run either as it offers 47.1mpg on a combined run, plus the engine is able to operate on just two cylinders when you're cruising. When I drove the sensibly (quite hard to do!) I was able to get around 41mpg, but that will soon plummet once you put your foot down – think more like low 30s. CO2 emissions come in at 136g/km, meaning you'll pay £205 for the first year of VED.
The new Fiesta ST is a better car than the last one it replaces although I would like to say one thing. It's not quite as raw, it's not quite as…characterful. I'm not going to say it's lost it's spark, because it definitely hasn't – it's difficult to put your finger on. It's definitely not compromised, but it doesn't feel quite as sharp to drive as its predecessor. I also prefer the looks of the previous model as well for what it's worth.However, I would still rather own this car. It's faster, offers a nicer interior, offers more kit, and it's a bit more comfortable as well.
What about competition?
Like any car, it has its rivals, but if you ask me, the one that comes closest in regards to driving thrills is the Toyota Yaris GRMN, which is a hoot to drive, but it's made in very limited numbers and it's overpriced for what it is. The Clio RS isn't as good to drive, plus it's auto only, as is the Polo GTi.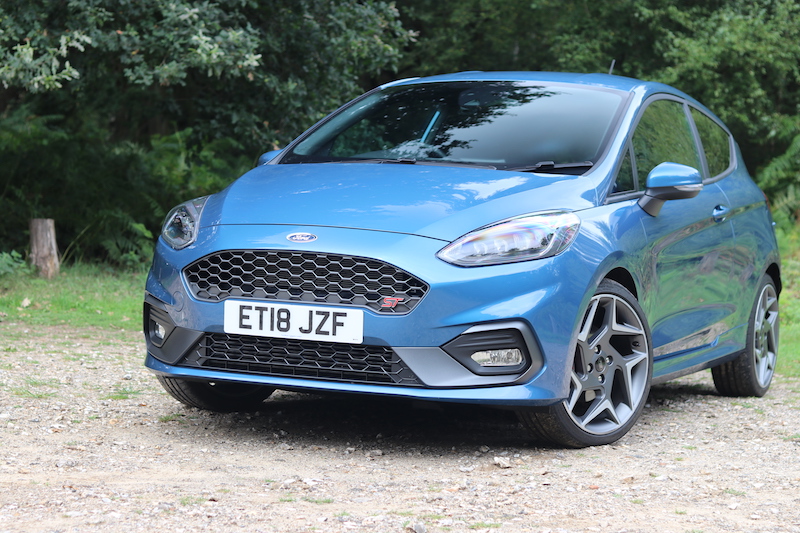 The Corsa VXR is all but dead at the moment, and the 208 GTi is due to be updated soon, but even then I don't think it'll be able to compete with the blue oval. You then have cars such as the Mini Cooper S and the Abarth 595, but they aren't quite as powerful, plus they are smaller. Really, then the ST is in a league of its own, much like its predecessor.
Final thoughts
Ford set themselves up with a very difficult task to replace the last Fiesta ST. This looked to be even harder when they decided to drop a cylinder, in what has been a bold, but inspired move. Is it as raw as the previous model? No, not quite, but this new car will be easier to live with, and it's still able to thrill you when it matters. The old king may be dead, but the new king still wears a crown with a blue oval on it.
Car Obsession Rating: (4.5 / 5)
Pros:
Strong performance

Fantastic stopping power

Nicer interior

Decent amount of kit

Available in both 3 and 5 door

Frugal (when driven sensibly of course)

Addictive soundtrack

Class-leading handling

A bit more comfortable than before

Available with a factory-fitted LSD
Cons:
Not quite as edgy as previous model

Gearchange isn't quite as good as before

Not as spacious as some of its rivals

Not as aggressive looking as its predecessor
Rivals
Renault Clio RS
Renault's RenaultSport division certainly know what it takes to make a decent hot hatch, but the latest installment hasn't had the same appeal. The largest factor to that is it's lack of clutch pedal. That's right, it's an automatic only, which has really narrowed the appeal of this car. It wouldn't be so bad if it was a decent gearbox, but it's not the best I've ever had. The Clio is due to be replaced soon though, so it'll be interesting to see whether the RenaultSport team can claw some ground back.
As mentioned previously, this for me is the car that comes closest to the Fiesta ST. Yes, it's very difficult to get past that price, and you'll be lucky to get your hands on one anyway, as just 400 came to Europe. A supercharger has been used by Toyota rather than a turbo, and the power feels instant and linear as a result. Add that to seats that look like they've been ripped out of a race car, a fantastic pedal layout and sharp handling, you've got perhaps the greatest missed opportunity the Japanese brand.
Volkswagen Polo GTi
The Fiesta ST has definitely grown up, but what if you still find it a bit too…uncouth? Say hello to the latest Polo GTi. You'll get a typically German build quality – at a similarly German price, of course – but you'll have no choice but to have an automatic gearbox. It'll be better than the Clio RS, but I still maintain that a hot hatch has to have a manual. Not unless it's pushing out crazy power like an Audi RS3 or a Mercedes A45 AMG. The Polo also offers more space as well, if that's important to you.