The Nissan Micra has been around since 1983, but within that time it's never been a car you would exactly class as 'cool'. In fact, I'd go so far to say it's about as cool as taking your parents along with you on a first date – I've never done that for the record.  The new one is looking to shake things up with dynamic/aggressive styling, but is it finally a cool car?
Design and Styling
For years, the Micra has been a rather cute and inoffensive, if it had a mouth you would expect it to always wear a content smile. The new one, however, wears a permanent frown and the looks are definitely more aggressive, as if it's ready to scrap it out with its rivals. As you have probably seen, this model has been treated with some 'Energy Orange' personalisation, which looks great, but you'll need pay extra for it.
This orange extends to the inside, helping to make it funky and fresh, but thankfully it's not too in your face – promise. The top of the dash has got a soft touch to it, although you will find quite a few harder plastics when you move further down, but on the whole it's a massive improvement on the last model.
Also, just take a look at the steering wheel – it has a flat bottom for extra sportiness. In a Nissan Micra? Surely not. The looks are definitely aimed more are at those who like hip-hop rather than hip ops. Speaking of which, this is the range-topping model, which has the Bose sound system, so you can blast out your bangin' tunes.
Rating: (4.5 / 5)
Equipment
The new Micra is available in five trim levels and starts from a price of £12,400. The base model (Visia) is able to offer features such as Bluetooth, LED daytime running lights, 15" steel wheels, six airbags and that's about it – you'll need to go up to the next trim level to get air con. Speaking of which, the Visia+ is the next trim level up, which starts from £13,350 and adds the aforementioned air con as well as stop start technology – depending on the engine.
The mid-range Acenta trim level is priced from £14,550, and adds features such as 16″ alloy wheels, 7″ touchscreen, cruise control, smartphone app integration and Apple CarPlay. The N-Connecta trim level starts from £16,420 and adds a leather steering wheel, rear privacy glass, climate control, navigation, and electronically heated door mirrors.
The model tested here, however, is the top-of-the-range Tekna, which starts from £17,740. This trim level adds 17″ alloy wheels, leather wrapped gear knob, keyless entry, BOSE sound system, and rear view camera with rear parking sensors. This model also has the optional Intelligent Around View Monitor with Moving Object Detection and Intelligent Blind Spot Intervention, which makes parking a breeze.
I do have one gripe with the equipment though – even the range-topping model has to make do with wind down in the windows in the rear. C'mon Nissan, don't be so tight, give the rear passengers some electricity – this isn't the 90s.
On the plus side, there is a good level of safety kit, including autonomous emergency braking, intelligent lane intervention, traffic sign recognition and high beam assist. Add this to a healthy smattering of 6 airbags and you'll find yourself a rather safe supermini. Granted, it gained four stars instead of five from Euro NCAP, but it should be enough to keep you our of any serious trouble.
However, if you tick more boxes to get additional safety equipment, you'll find yourself with a Micra that has a 5 star Euro NCAP rating. So if family safety is your priority, make sure to take a good look at the optional extras.
Rating: (4 / 5)
Space and Comfort
Now, this is an area where the Micra struggles a little bit. Yes, getting a good driving position is rather easy, but I would want a bit more knee room as I find the steering column blocks my left a knee whenever I get in or out the car. I find the clutch pedal a bit too high as well. The headroom is fine though and there are plenty of cubbyholes too, but what is space like in the back?
This is where things get a bit tight. As always, the driver's seat has been altered for my 6'2" frame and as a result, there is very little room left over for my legs. Shorter passengers will find room more agreeable, but taller passengers may want to try and get the front seat as the headroom isn't that great either.
It also feels a bit dingy in the back thanks to privacy glass and on the whole it feels a bit claustrophobic. It's not a place I'd want to spend a lot of time in all honesty.On the plus side, the boot is of a decent size as it offers 300 litres, which is more than the Ford Fiesta but not quite as much as the SEAT Ibiza or the Honda Jazz. If you need more space you can fold down the 60/40 rear seats to offer over 1,000 litres.
Rating: (3 / 5)
What's it like to drive?
Long term readers may remember I was a bit underwhelmed when I drove the Micra last year. That was a brief drive, however, this is a more thorough review – so has my opinion has changed? Time will tell… In the meantime, let's talk about the car itself. The new model have a completely revamped look, but it actually uses the old car's platform, as well as the engines.
Let's talk about the engine fitted in this car, it's a 0.9 litre three-cylinder turbocharged petrol, which offers 89bhp with 150Nm of torque. This power is fed through to a rather slick 5-speed manual gearbox and will help the car hit 62mph in 12.1 seconds and then on a top speed of 109mph.
But what if you don't quite fancy this engine? You can either a 1.0 litre naturally aspirated petrol which produces 70bhp or a 1.5 litre diesel which produces 89bhp. Both these engines are also mated to the 5-speed manual, so bad news for those looking for an auto – there isn't one, not for the time being anyway. Back to the 0.9 litre, it offers a decent amount of punch, although it hasn't got the same 'fizz' as other three pots such as Ford's EcoBoost.
As I mentioned in my last Micra review, it also makes this rather off-putting whining noise when you accelerate hard, which makes it sound like it doesn't approve of being forced to work. Thankfully, it works away quietly when you're cruising, which helps with refinement. Speaking of which, although this model is riding on 17" rims, road noise is well contained and only becomes really noticeable on rougher surfaces, plus the wind noise is of a decent standard.
Visibility on the other hand isn't great. The A pillars are rather thick, and thanks to the sloping design of the new car, they can block vision when you get to a junction. The C pillars are also thick, meaning that this could be a bit tricky to park without a camera or sensors.
The ride is on the firm side though, especially when travelling at lower speeds where it becomes rather jiggly. Thankfully, the ride does become more composed once you're up to speed, plus these seats are nice and spongy like a marshmallow. On the plus side, the new Micra has pinched tech such as Intelligent Ride Control from its bigger brother, the Qashqai. This system applies brake when you drive over bumps to keep provide a smoother ride. At slower speeds you can't really feel the benefit, but it seems to work better when you get up to speed.
Despite using the previous car's platform, Nissan has put a lot of work in to improving the dynamics of the new car and has even drafted in an ex-Formula One driver – no, really. At this point I would love to tell you that this hard work has paid off, but it hasn't. Not completely anyway. Yes, it's a capable car in the corners, and it offers decent grip, but it never really gets your pulse racing.
The steering doesn't offer a great deal of communication, but it does offer a decent enough weight. Overall though the car's lacking the poise and finesse offered by other cars in class. On the plus side, the brakes are pretty good. The handling is a bit of a shame as it doesn't quite live up to the exterior styling. However, I think there is space for a sporty model, how about a Micra Nismo? You never know, stranger things have happened – Donald Trump is president.
Rating: (3.5 / 5)
Fuel Economy
No matter which engine you choose for your Micra, you'll find it to be rather frugal. This engine is able to offer up to 61.4mpg on a combined run and in my experience, I've been getting around 47. 104g/km of CO2 is emitted from this engine, meaning that for the first year of VED you'll pay £145 and then £140 for each year thereafter.
The 1.0 litre petrol is also able to offer 61.4mpg on a combined run, and emits around the same amount of CO2, but what about the diesel? This is able to offer 88.3mpg on a combined run and that offer CO2 as low as 85g/km, which means you will pay the same in VED.
Rating: (4 / 5)
Final Thoughts
So, do I like the Micra more compared to when I first drove it? Yes, I do. Is it as good as cars such as the Fiesta or the Ibiza? No. Don't get me wrong, Nissan has done a good job with the new model and I admire the brand for its efforts. It's good, but it's not quite as good as its stiff competition. Nissan, you're close, but not quite there. However, is the Micra finally cool? Yes, I believe it is. Blimey, I thought I'd never say that.
Car Obsession Rating: (3.5 / 5)
Pros:
Sharp looks

Good levels of refinement

Improved interior

Decent performance from the 0.9 litre

Good levels of grip

Pretty frugal

Good safety kit
Cons:
Low speed firm ride may not be for everyone

Cramped in the rear

Lack of rear electric windows (I know, it's a tad picky)

Not as dynamic to drive as rivals

Not the best value to be had in class
Rivals
The Fiesta has been a class leader for years, so it's safe to say this will be the Micra's main competition. Both are around the same price and although the Micra has made vast improvements, it's still not able to topple the Ford of the top spot. The Fiesta simply offers a better drive and it offers up more fun. You can also get hot variant as well, if that is an area that concerns you.
The Fiesta may be the best seller, but if you ask me, the SEAT Ibiza is currently the supermini the Nissan Micra needs to beat. Like the Fiesta, it offers a fun, accomplished drive – albeit in a slightly more grown up fashion. It also looks great, offers a good amount of tech and offers a high amount of space. It's range-topping model is also cheaper than this Micra, too.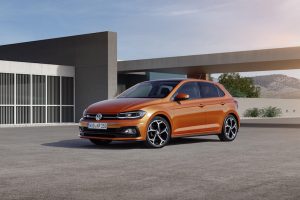 The new Micra offers a higher level of refinement, but the Polo will be the one to go for if you want even more. It's built on the same platform as the Ibiza, so it also offers more space than the Micra, but the car as a whole will come at a higher cost.