The forthcoming Ford Fiesta ST looks rather exciting on paper, but seeing as that's still quite a way from being released, plus it will be more expensive to own and run than a regular model, could the milder ST Line X be the sporty Fiesta for you? Read on and find out.
Design and Styling
As you may know from my other Fiesta reviews, I've not been completely sold on the styling. It's not an ugly car, it's just not as visually pleasing on the eye as let's say, a SEAT Ibiza, but looks are and always will be subjective. However, in the case of the beefed up ST Line X, the looks are definitely more agreeable. I think the lower stance helps as well, it just makes the car look more purposeful if you ask me.
As you would expect from a sportier model, you get a body that was swollen with extra aggression, a different front grille, chunky 17″ alloys, a roof spoiler and a cheeky exhaust pipe. The sporty theme continues inside as you'll find sports seats in the front, sports pedals, a flat-bottomed steering wheel and a gearknob trimmed with leather, which is separated by a metal strip that makes your hand wince on colder mornings. Still, it's a handsome looking car, inside and out.
Rating: (4.5 / 5)
Equipment
The ST Line X is based on the standard ST Line, meaning you'll enjoy standard features such as LED daytime running lights, keyless start, air conditioning, automatic headlights,  Ford Sync 3 infotainment system with DAB radio, Bluetooth and smartphone connectivity. The ST Line X, which starts from £17,845, adds to this with rear privacy glass, a bigger touchscreen (8″), part leather seats, cruise control, automatic lights and wipers, auto high beam and climate control.
The model tested is priced a little higher as it has the more powerful EcoBoost engine, plus it has some optional goodies. These include door edge protectors (£85), rear view camera (£250), driver assistance pack (£200), B&O Play audio system (£300), ST-Line X Red pack (£150), and strangely, a CD player mounted in the glovebox (£150). All this combined means that this very car is priced at £19,830, which does seem a fair amount for a supermini, so it'd better be super.
Rating: (4.5 / 5)
Space and Comfort
Space in the front is decent, these seats are very nice to sit in, plus they offer a good level of adjustment along with a steering wheel that adjusts for rake and reach. This means getting a good driving position is made easy, although the rather chunky A pillars do affect visibility. There is a decent amount of storage to be had as well, but you'll soon find space isn't as good in the rear.
Admittedly, getting in to the rear isn't as difficult as I thought it would be. Granted, I'm not the fattest person going, but I am rather tall. This soon becomes a problem once I'm sat down though, as the headroom is just about acceptable and my legroom is limited if I were to sit behind someone of a similar height. The rear then is best for children or smaller adults, but this model is also available in five doors for better practicality.
The boot is a decent enough size though, offering 292 litres, which is not class leading but it should be enough for every day family life. If you need more room, you can fold down the 60/40 rear seats to increase it to almost 1,100 litres. If you're after a supermini with more space though, I'd recommend the latest SEAT Ibiza.
Rating: (3.5 / 5)
What's it like to drive?
You may be forgiven for thinking that this is a poor man – or woman's – ST, and that it will promise more fun than it can actually deliver. I'm happy to report that this is not the case, and in fact it's a hoot to drive. Underneath the bonnet you can either have a 1.0 litre, three cylinder EcoBoost engine or, if you're really need one, you can have the 118bhp 1.5 litre diesel, although I'd urge to have the petrol – you're likely to regret it otherwise.
The EcoBoost is the one to have, but there is a choice to be had here, as it's made available with three power outputs; 99bhp, 123bhp or 138bhp. The last on that list is the one I have at my disposal and I have to say, it is a peach! Mated to a slick 6-speed manual gearbox, it offers 180Nm of torque and is able to crack 62mph in 9.0 seconds. This may seem pedestrian, but in reality it definitely feels quicker. The top speed – if you're able to find somewhere to reach it – is a rather respectable 125 mph. Buyers can opt for an automatic, but you would need to have the least powerful EcoBoost engine to have that.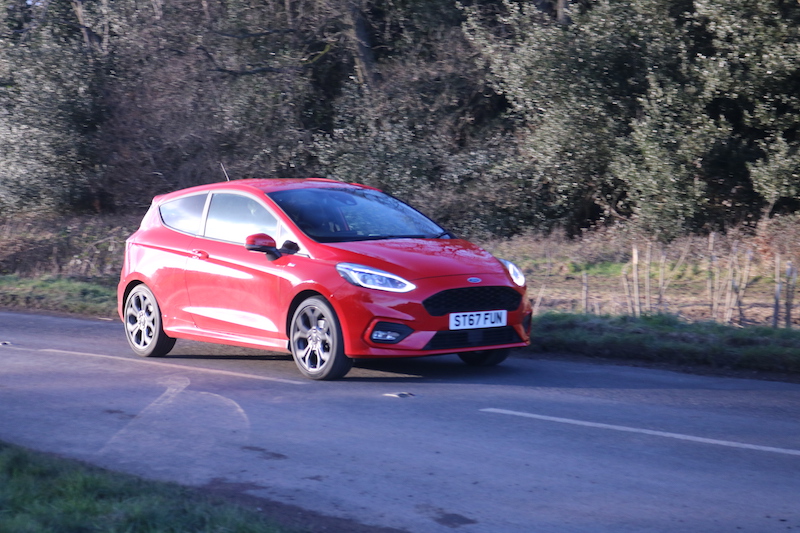 The power comes in pretty quickly and it has a nice linear feel to it, which is most welcome. Although, it's not quite as welcome as the noise it makes in the progress, which is nothing but addictive. The steering has got a decent weight to it, plus it's direct to meaning that the car has a lightning quick turn-in. Once in the corner, you'll be greeted by what almost feels like an infinite amount of grip.
This is thanks to the super sticky Michelin Pilot Sport 4 tyres, which simply clings on to the road like a leech sticks to the skin. There is very little body roll and the car feels incredibly planted. This is fantastic as a driver because it gives you confidence by the bucketload and it make you smile so much you face you'll need to make sure you cheeks good a warm-up before turning the ignition.
What about the ride though? Well, it sits on sports suspension so it's inevitably firmer, but that's not to say it will turn your spine in to dust. Yes, the ride is a bit more jiggly, and on rougher surfaces you can hear the suspension working away, but it will take a sizeable pothole to really disturb the cabin. However, it's worth mentioning that the tyre roar from the 17″ alloys but at least the wind noise isn't too bad.
Visibility isn't too bad, although I found the A pillars a bit thick, which does hinder vision somewhat, plus the rear window isn't the largest. If this is going to be an issue for you though, then you can opt for the rear view camera to help parking easier, although I never had any issues popping the Fiesta in to a parking bay.
That's one of the beauties of the Fiesta ST Line X, not only is it great fun, but it's practical.
Rating: (4.5 / 5)
Fuel Economy
On paper, this engine looks to be as frugal as a camel, but in fact, you'll likely to find it'll sway a bit more towards the George Best end of the scale. On a combined run Ford states you'll be able to achieve 62.8mpg and this sounds fantastic. In fact I hear oil barons crying, but in my experience, I was getting an average of 46.8. That was with the eco mode turned on and with delicate footwork on the pedals I'd like to add.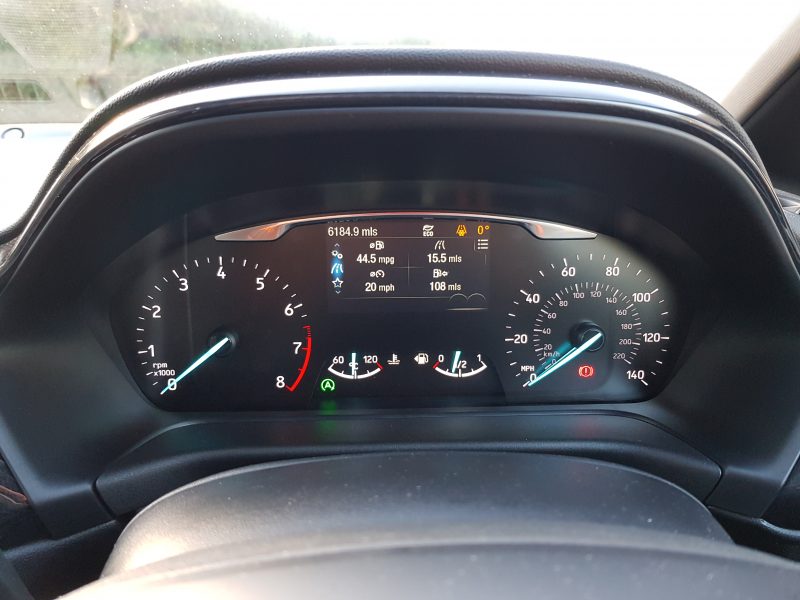 Drive the car harder and predictably those numbers will fall like domino's, but I have to say it's definitely more fun. Mind you, even when I drove the car in a spirited manner I was getting mid-30s, which I know isn't impressive, but it wasn't quite as bad as I was expecting. If economy is priority for you, then take a look at the 1.5 litre diesel as Ford claims that will achieve 88.3mpg whilst emitting 89g/km of C02 in the process. This EcoBoost emits 102, in case you were wondering.
Rating: (3 / 5)
Conclusion
The Fiesta ST Line X may not be the sporty Fiesta that many are waiting for, but seeing as it will be cheaper to buy, cheaper to run and also cheaper to insure, this may actually be the better choice for some buyers. With the 138bhp engine it has enough poke to keep you entertained, it'll sound great in the process and it will thrill you in the bends. This definitely feels like a 'have your cake and eat it' kind of car, although better fuel economy would have been nice.
Despite this minor complaint, this is a little firecracker in its own right and certainly not a poor man's ST. Mind on the basis of this car, the new ST ought to be something…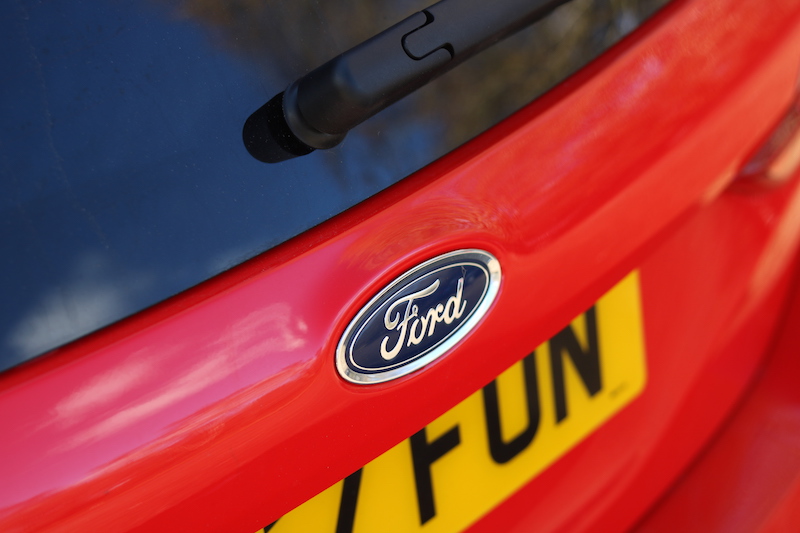 Car Obsession Rating: (4.5 / 5)
Pros:
Engine offers decent performance

Makes a good noise

Great fun to drive

High levels of grip

Looks the part
Cons:
Not the most frugal

Space in the back is not as ample as some rivals

Auto High Beam wasn't very intuitive 

Not the cheapest in class
Rivals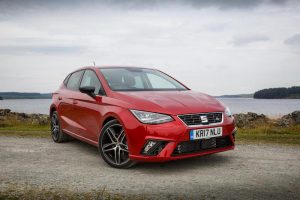 The SEAT Ibiza FR is a car in a very similar vein to the Fiesta, and although the engine note isn't as addictive, I'd argue it's a better looking car. It also offers more room, but I'd say the Fiesta just edges in the fun department, although I'm talking fine margins here. It's a cheaper car to buy though, so that could swing it for some.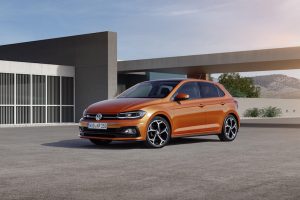 The Polo has been a rival for the Fiesta for as long as care to remember, so it seems natural to include it here. The closest model to the ST-Line X would the be the sporty R-Line, as you would expect, this starts a higher price, but will be a more premium finish, not that the Fiesta feels desperately cheap of course.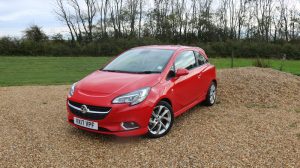 Like the Fiesta, the Vauxhall Corsa has been one of the nation's favourite superminis for quite some time. I drove the SRi VX-Line last year and although it's a capable machine, the Fiesta is noticeably better in my eyes so I feel the Corsa will always be second best out the two. Mind you, the Corsa is a fair bit cheaper, making it more appealing in that regard.