So it's all over – well at least for now. It felt like we all had to wait forever for the new series to come, plus it took a long time for the show to even be named. It's had it's highs, but there have also been times where the I felt there have been misfires. So with that in mind, here are my thoughts on what I liked and what I dislike.
The Band is Back
Like many, I have grown up watching Jeremy Clarkson, Richard Hammond and James May on Top Gear and for me it was the highlight of my weekend. From as long as I can remember I have been a massive fan, so the day the show got axed I felt very empty. It was like someone had taken away a chunk of my childhood. I was genuinely sad and gutted when the whole 'fracas' happened. Now I for one am not one of those mad at the BBC – the corporation had little choice. After all, its hands were tied.
But that meant the opening scene of The Grand Tour was special, and I really mean special. I actually re-watched it the other day and it stopped me in my tracks all over again. I stirred emotions that I probably shouldn't for what is essentially a car show, but like I said, the opening scene just felt special. It felt seeing an old friend you hadn't seen for years. I was so glad to have them back, as was everyone else. Apart from Chris Evans.
More Cars Please
Now I know over the years Clarkson, Hammond and May have become more about entertainment than nitty gritty car reviews but even so, I expected more cars. Episode 1 set a very high benchmark with the holy trinity that is the McLaren P1, the Ferrari LaFerrari and last not least the Porsche 918. The second episode was a polar opposite to this where the trio went to Jordan to take some part in some kind of Last of the Summer Wine meets Live Die Repeat film. The whole thing just didn't work.
And what about when they went to Barbados to build a coral reef in what I felt was another random move from the Grand Tour boys. Oh and the bugout cars section, what was that about? Ok, so I did enjoy the film to a degree but I remember the old days of Top Gear where the show was all about cars – I was hoping that would creep in somewhat in to the first season of The Grand Tour.
The last example I want to draw on this before I move on is the film in which James May drove the Ferrari P3 and the Ford GT40. This film was pure, honest and truly captivating – I want to see more of that. Through all their schoolboy childish let's not forget that Clarkson, Hammond and May are bonafide motoring journos, so I want to see more films like May's Ford v Ferrari one.
Beautifully Shot
The new series of Top Gear was shot rather well but The Grand Tour came along and simply blew the BBC production out the water. From the get-go The Grand Tour has been shot so beautifully and so well that just watching for that alone would be worth it. Some of the landscapes have been spectacular and the production team behind it all deserves a hearty pat on the back. The visuals used in some of the films were fresh and modern, I'm even tempted to call it groundbreaking. Actually, I think I will.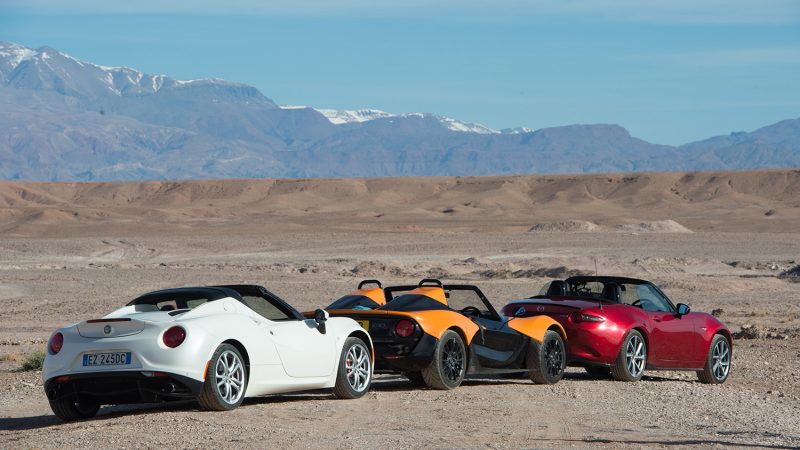 Car (Celebrity Brain) Crash TV 
It's no secret that I do not like Celebrity Brain Crash – I think it's a gag that was only midly funny the first time. So the fact this became a running gag throughout the whole season was rather disappointing and in all honesty, unimaginative. Please guys, if you want to interview someone then please do it, otherwise don't bother. Wow, that came out more sassy then I was expecting.
Lose The American
Sigh. The American. I thought I might warm up to the yank's charms but in all honesty I'd be quite glad to see the back of him. It's a shame the trio had to pick a driver from the States as I would have loved for them to bring Ben Collins back. Who knows, that still might happen, although I fear Mike Skinner is here to stay. He'll be about as long as he doesn't talk.
More Challenges
One thing I loved about Top Gear were the cheap car challenges as they throw up good entertainment and I love the wackiness of the tasks that get dreamed up. There was the Maserati challenge towards the end of the season but even that challenge just seemed to be a bit lacking for me. I know, I know, I can't be pleased. Also, I felt the Namibia special could have had some more challenges in it, rather then that silly poacher hunt.
Trying Too Hard
Now one thing that makes the Clarkson, Hammond and May package so desirable is the chemistry and banter they produce. Mind you, that's actually two things, but you get what I mean. I could watch the three for hours an even a video of them trying to assemble a box provided good entertainment. However, there were definitely times were the humour was forced and simply too scripted. I sometimes don't know why they try so hard, because they are naturally funny guys.
Although I have some complaints, which may come across stronger than intended, I really enjoyed the series and I'm sad it's now all over. Season 1 has been a good base on which to build on and I'm sure Clarkson, Hammond, May and the production team will make the second season even better. It will be a long wait until then though and I imagine there will be a new series of Top Gear to consume between then and no as well.
Although it may looked like I've picked out more negatives than I have positives, I thoroughly enjoyed the season and that wasn't actually my intention. Plus I could rattle on all day about the things I liked which I'm sure would bore you all to death after some time…
Car Obsession Rating

(4 / 5)