MPVs. Back in the 90s and the early noughties, these were popular modes of transport for family life as they offered plenty of space, practicality, and depending on the model, the ability to carry seven people at one time. However, the Nissan Qashqai saw buyers flock towards the SUV, and not the MPV – so that begs a question; are cars like the new Citroen Berlingo a has-been?
Why should I buy it?
With the current car market awash with more SUVs than you could possibly dream of, you may wonder what the appeal is for a car such as the Citroen Berlingo. Well for starters, it has bags upon bags of space and the rear doors slide open, which will come in handy when you park in tight spaces.
Going back to the space, though, it's clear to see you have loads of it, especially if you opt for the Modutop roof, which is a £750 option. Not only does this give you a glass roof which helps the inside feel even more airy, but it also adds 92 litres worth of storage space thanks to a floating translucent rack with background light. There's also two decent sized cubbies at the rear, so this car will be perfect for those long family road trips.
The boot is also of a very good size, offering 775 litres, but you can get even bigger if you for the larger, seven seater, which is called XL – this is the M, in case you're wondering. Open up the enormous tailgate – which thankfully isn't as heavy as it looks – and you'll find a large, practical space that is bound to be easy to load items in to.
However, you need more space, you can of course fold down the rear seats which is as easy as 1, 2, 3, and you'll be able to enjoy a grand total of 3,500 litres – I'd like to see an SUV beat that! To give some comparison, that's almost double than the SEAT Tarraco I reviewed a little earlier this year.
Let's move on to rear space; as always, the driver's seat was set for me, I'm 6'2″ and the space left over wasn't too bad at all. Knee room is agreeable, legroom is decent, as is the headroom despite having a panoramic roof. The three seats are individual to each other, therefore they all have the same width, so fitting three adults in them shouldn't cause too many complaints.
Like the Tarraco, the Berlingo features tables in the back of the front seats, which will be dead handy for road tripping, and you also have a cupholder as well, but it's not as well designed as the SEAT. In regard to other practicality, you have doorbins which aren't massive, but you can fit a few small snacks in there, you have little pouches in the back of the front seats and saving the seat until last, you have storage under the floor – brilliant. Time to move to the front.
Like the rest of the car, the front is a spacious place to be, and it also features clever cubby holes, such as a compartment on the dash, in front of the driver. As well as that, you have not one, but two gloveboxes, decent sized doorbins, a little crevices here and there, and a slot where you can place some smaller items such as loose change. There's no cupholders in the middle, but you do get one either side, although they aren't the largest.
Getting a comfortable driving position is easy enough; the steering has got a good level of adjustment thanks to rake and reach capabilities, plus the driver's seat has got decent adjustment, although what I will say, is that there's not a lot of support. Also, it's worth mentioning that the base model gets limited adjustment for the driver's seat. On the plus side, you do have your own armrest, so you don't have to worry about your front passenger hogging up all the space.
Overall then, the Berlingo offers more space than your average warehouse, but what is it like to drive?
Ever driven a van? If you have, it will give you a good idea of what to expect from the Berlingo, which is not a criticism as such, just an observation. The driving sensation should come as little surprise, though, as you can also buy the Berlingo as a light commercial vehicle – otherwise known as… a van. This means you get an upright driving position, and a gear lever that protrudes out of the dashboard as opposed to the carpet, which would obviously be a bit of a reach.
Speaking of the gearbox, I have a 6-speed manual but you do have the choice of an 8-speed auto if you choose a different engine. On the whole, the changes are ok, but like other PSA group cars I've driven, they are notchy. They're also quite long as well, but I think it will be just fine for the casual driver. However, the gearknob doesn't fall that nicely in to hand as it's square – surely no-one wants a square knob?
The engine in which this gearbox is attached to is the PureTech 110 petrol, which is a 1.2 litre unit, with three cylinders. It offers 108hp, with 205Nm of torque resulting in a 0-62 of 11.5 seconds, and a top speed of 109mph. However, you're probably more concerned about economy, not performance.
On a combined run Citroen states this engine should offer the Berlingo up to 42.4mpg, with emissions rated at 125g/km. In my experience I was getting 46.5, although it's worth noting that my current daily commute features faster roads. If you're looking for more economy, you'll be pleased to know you also have the choice of a 1.5 litre diesel which can either be had in 76, 108 or 131hp variants. The PureTech 130 will also be available to select for this car later this year.
I've used that engine a few times; it's a pretty sweet engine and I think it would suit the Berlingo better than this engine. The reason I say that is because the PureTech 110 works just fine when it's just me in the car, but I think it may struggle a little when the car is fully laden. Anyway, that's enough about the engines, let's move on.
What about the comfort?
Citroen is well known for making comfortable cars, so how does the Berlingo fare? It does pretty well, although it doesn't feature the French brand's fancy Progressive Hydraulic Cushions, which is a pity, as I feel this car would have suited them very well. Despite the omission of the PHC, the ride is pretty good.
I can't say it's the most comfortable Citroen I've ever driven, but that's not to say it's bad, because it isn't. It's supple, and forgiving, but it doesn't soak up the bumps as well as the C3 Aircross or the C5 Aircross. The Berlingo also misses out on the Advanced Comfort seats, which once more, is a bit disappointing.
These seats are comfortable enough, but they are quite flat, and don't offer a lot of support. At first I thought the seats would become uncomfortable for longer journeys but I pounded a fair few motorway miles whilst I had the car and it was better than I expected, so maybe there's hope for you yet.
As you would expect from a car like this, the handling certainly leaves a fair amount to be desired, but I'm not going to be critical as let's face it, the Berlingo is a boxy MPV. Expecting this to be any good in the corners would be like expecting a darts player to be good at the 100m.
So with that in mind, let me move on to an area that you're probably a bit more bothered about – refinement. It's not bad, but it's not the quietest car going. Mind you, I drove this on the motorway and at no point did I feel the need to shout to my passenger or to crank the stereo up so I could hear my music.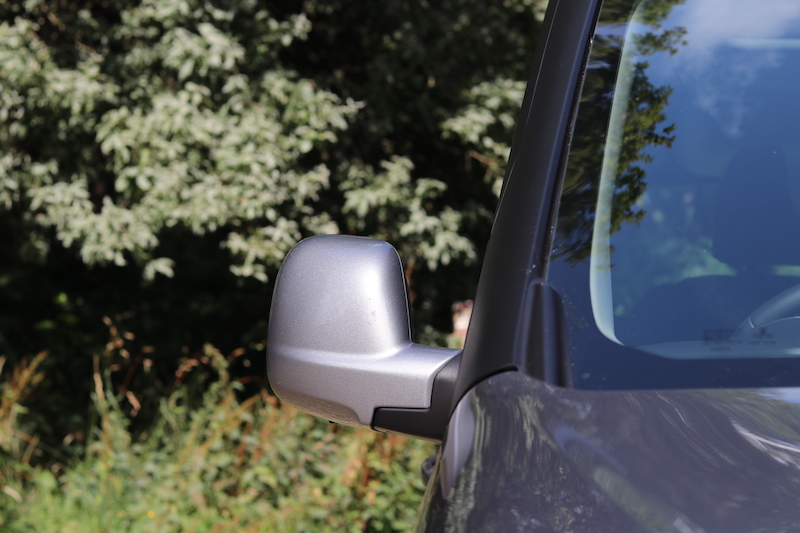 The chunky wing mirrors and the car's shape do create noticeable wind noise, though, and there's definitely some tyre noise that finds its way in to the cabin as well, so it's not perfect. On the plus side, the engine isn't too shouty when you rev it, and it works away quietly when you're cruising.
How much will it cost?
Choosing the right Berlingo should be fairly straight forward as there are just two trim levels available; Feel and Flair. One could argue that Feel is best avoided as you don't get alloy wheels, rear electric windows, individual rear seats, height and tilt adjustment for the driver's seat or the fold out tables.
What Feel does offer, with a starting price of £19,650 (£21,530 if you for the XL), are features including 16″ steel wheels, airbump panels, air conditioning, daytime running lights, 8″ touchscreen, Bluetooth, DAB radio and Safety Pack.
The Flair, which is what I have here, is the more attractive package as it adds 16″ alloys, LED daytime running lights, black roof rails, rear electric windows, fold out tables, electric parking brake, rear parking sensors, navigation, smartphone connectivity, foldable passenger seat, and Citroen Connect Box Emergency and Assistance System.
The starting price for Flair is £21,940 if you go for the five-seater, and £23,600 for the seven-seater. However, the car you see here has a few options, so is priced at £24,335. These options include the Cumulus Grey paintwork (£545), Keyless entry and start (£250), Drive assist pack (£200), the Modtup roof (£950) and Grip Control (£650).
Ask Aaron
I'd like to know about that famous Citroen suspension system
Sadly, the Berlingo doesn't have Citroen's fancy Progressive Hydraulic Cushions, which I think is a shame as I would argue the Berlingo is the perfect car to apply it to. The standard suspension in this car is pretty decent, but it's not the best Citroen has to offer.
Does it feel huge on the road?
Not as much as you may think. The biggest giveaway that you're driving a considering mass is the fact that the driving position is virtually the same as driving a van. It does feel big, but I wouldn't say it feels like I'm driving a tank.
Do you know when the petrol EAT8 automatic version is due to be launched?
I don't have an exact date, or indeed a month, but Citroen states that it will be the second half of 2019, so it shouldn't be too long.
How safe is it?
Safety will be an important area for potential buyers, and the Berlingo does well, although it wasn't able to do enough get full marks from Euro NCAP. It did score a solid four stars, thanks to standard safety features such as six airbags, autonomous emergency braking, lane keep assist, hill hold assist, speed limiter, and speed sign recognition.
Final thoughts
The Citroen Berlingo may not be as stylish or as trendy as an SUV, but you simply cannot deny the high amount of space and practicality it has to offer. It also offers a good choice of engines, decent value and it's pretty comfortable as well. It's not a great car to drive, but I suppose that comes as little surprise, and I'd also mention that the Feel trim level is best avoided if you want to get the full Berlingo experience.
So, let's go back to my original question, is the Berlingo a motoring has-been? No, I still think it has a lot to offer buyers, and this is a car you would buy when you have your sensible trousers on. Yes, this car is not particularly sexy, but sometimes substance is more important than style.
Car Obsession Rating: [user=4.5]
Pros:
Extremely practical

Very spacious

Comfortable

Offers decent value

Good safety levels
Cons:
Not as attractive as an SUV

Driving experience is so-so

Base model is a bit spartan on kit

Seat comfort/support is a little disappointing
Rivals
Peugeot Rifter
The Rifter is built on the same platform as the Berlingo, so it's little wonder that the boot space in five seater mode is exactly the same. The Berlingo does edge boot space in two seater mode, though, and it starts from a cheaper price. The Rifter has a better choice of trim levels, though, and I'd argue it's a bit better looking.
Vauxhall Combo Life
The Combo Life may be Vauxhall's stab at an MPV, but let's not forget the British brand is now under the PSA umbrella, so this is going to be a similar car to the Berlingo. Like the Rifter, it offers a better choice of trim levels than the Berlingo but it's boot space is noticeable smaller than both the Berlingo and the Rifter, so that's worth bearing in mind.