Regular readers may remember that earlier this year I had a short spell in the SEAT Arona, and I have to say, I was pretty impressed. More recently I've lived with the car for a week, but is it as good as I remember?
Ibiza-inspired styling does wonders
It's a good looking car, isn't it? It's got the Ibiza to thank for that as that's the car the Arona is based on, but of course, this model gives you a small crossover body and a raised ride height. This particular model is finished in Mystery Blue with a contrasting Midnight Black roof, and boy, does it look good.
The model here is the FR, meaning you get a sportier style both inside and out, plus you also get 17″ alloys as standard, which I feel let the exterior look down a little bit as I'm not fond of their design, but that's subjective of course. Not only are the 17″ alloys standard, but metallic paint is also standard, which helps to give better value.
The inside is a nice place to be; it's not too cluttered and it's got quite a classy finish to it. You get a sporty steering wheel with a flat-bottom, more red stitching than you can ever dream off and a nice smattering of leather. One thing I will say though, it would have been nice to get more soft touch materials on the dash and on the doors, plus the leather on the steering wheel feels a little too rough for my liking.
As good to drive as it looks
The Arona is built on the same platform as the Ibiza, which, in case you really want to get technical, is the MQB A0 platform. As such, the Arona also offers the same range of turbocharged engines as the Ibiza. This means you get to choose from a 1.0 litre, three cylinder petrol, which offers 95 or 115hp, a 1.5 litre four cylinder petrol that offers 150hp and a 1.6 litre four cylinder diesel that offers either 95 or 115hp – much like the 1.0 petrol. Are you still keeping up with me? Good.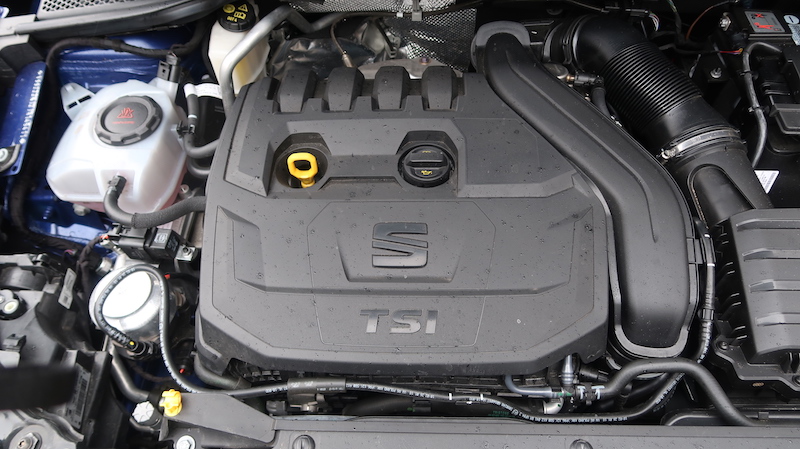 The engine I have is the 1.5 litre petrol, which as mentioned, offers 150hp, and it also offers 250Nm of torque. A 6-speed manual gearbox helps to deliver the power to the front wheels (there is no four wheel drive option), and it's only gearbox available with this specific engine. You can have an automatic, but you would need to get the 95hp diesel or the 115hp petrol. Heading back to this engine though, 0-62 comes in a respectable 8.2 seconds, and it will continue to a top speed of 129mph.
This engine is only available in the FR and FR Sport trim levels and although you may not need this engine, I'd urge you to at least trying it before you buy as I think it works really well with the FR. Although I wouldn't go so far to call it fast, the engine offers a good amount of performance and it's certainly nippy. What's more, it also has cylinder deactivation, meaning it will shut down two of its cylinders when you're cruising to give better fuel economy.
Speaking of which, this engine, on a combined run should offer you 57.6 mpg, and in my experience, I was getting around 46. In regards to CO2, 113g/km of emitted from this engine, meaning for the first year of VED, you'll be required to pay £165.
So, it shouldn't cost too much to run, but how much is it to buy?
The FR is one of the mid-range models, starting from a price of £20,165, although the model on test here is £22,295 as it has the 1.5 litre engine and it's also got an optional tow bar (In case you're wondering, this car can tow up to 1,200kg).
In regards to standard features, the FR should have you well covered, as it offers 17″ alloys, two tone paintwork, LED front and rear lights, 8″ touchscreen with DAB radio, Bluetooth, smartphone connectivity and navigation, cruise control, automatic lights and wipers, wireless phone charging, selectable driving modes, FR sport seats, dual zone climate control and rear parking sensors.
There are of course other trim levels available, including SE, SE Technology, SE Technology LUX, FR Sport, XCELLENCE AND XCELLENCE LUX, which range from £16,905 all the way through to £22,620.
So far so good, but is it let down by its driving dynamics like other SUVs?
No, not all, because in fact it's all very positive. The engine, as I've mentioned offers, a good amount of performance, although I would want it to make a meatier noise. What it lacks in aural excitement, it makes up with refinement, as it's a smooth engine that is near silent when you are cruising. There's not much turbo lag either, so overall, it's an efficient engine.
That's enough about the engine for the time being, let's move things on to the 6-speed manual gearbox. It has a short, snappy change to it and its operation is slick, adding to the impressive driving sensation the Arona FR offers. With it being an FR, you get a firmer suspension setup for better handling, but even so, the ride is still compliant and it's a comfortable car. It won't be as comfortable if you go for bigger alloys of course, so that's worth bearing in mind.
Small SUVs are great for those that want a bit more space and a higher ride height, but most of the time, the handling is somewhat compromised because of this. The Arona, however, bucks this trend as it offers a rewarding handling sensation. There is still a bit of body lean of course, but it's well controlled and there is plenty of grip on offer.
The brakes are also strong, the steering is direct and responsive, although I would want a little more feedback and even in Sport mode, I do find the steering could do with a little more weight. That reminds me, I haven't even discussed the driving modes! There are four available; Normal, Eco, Sport and Individual, all of which are quite self explanatory.
So it drives well, but does it still offer a good level of practicality?
In a word, yes. The front offers a good amount of space and there's a decent amount of cubbyholes dotted about as well, plus getting a comfortable driving position is a doddle. Like the Ibiza, the rear space is ample, even for a taller passenger like myself. Even when the driver's seat is set for my tall frame I've got a good amount of leg and knee room, and the headroom is also plentiful.
What I will say though, is that you'd struggle to fit three adults back there, especially as there is a large transmission tunnel going down the middle, meaning that whoever occupies the middle seat will have to sort of sit legs akimbo, and they'd be pretty squashed.
Like the rear, the boot offers a a good amount of space, as it has a capacity of 400 lites, which is one of the best in class, although it's not quite as impressive as the C3 Aircross, which boasts 520 litres.
However, if you need more space in the Arona, you can of course fold down the rear seats giving you over 800 litres. The opening to the boot is nice, wide and square, which along with an entrance with virtually no lip means it'll be easier to load, bigger, heavier items.
Is it safe?
Again, in a word, yes. Thanks to standard equipment such as six airbags, autonomous emergency braking, multi-collision brake, and hill hold assist, the Arona was awarded five stars from Euro NCAP. Adult occupancy was scored at a very impressive 95% whilst child occupancy was scored at a respectable 80%. Pedestrian safety was scored at 77% and Safety Assist was scored at 60%.
Final thoughts
Is the SEAT Arona as good as I remember? Yes, and then some. It's good looking, spacious, offers a good amount of kit and it offers an impressive drive. Some may argue that you'd be better off with a Leon and I can see that argument but don't take anything from the Arona as it's a very good car in its own right.
The only downside for me is that I would want a few more soft touch materials in the cabin and I would want the steering to be a little sweeter, but to be fair, those are small complaints. On the whole, if you looks for a good example of what a crossover should be able to offer, the Arona is the car to look at.
Car Obsession Rating: (4.5 / 5)
Pros:
Stylish

Spacious and pratical

High safety rating

Won't cost too much to run

Enjoyable to drive

Comfortable

Generous amount of kit and technology

Capable, tidy handling
Cons:
Drive mode button on wrong side (yes, I know that's picky)

Interior could do with more soft touch materials
Rivals
Like the Arona, the Kia Stonic is a dynamic car to drive, which can offer up a good level of enjoyment, but its ride if firmer and it lacks the practicality needed to compete in this area of the market. It's also not as good looking – subjective I know – and the interior is quite drab. Still, it offers good value, a good amount of standard kit and it also has a seven year warranty, don't forget.
So you're looking at the Arona, but you want even more space? The Citroen C3 Aircross should cater for you needs as it offers an enormous boot for its class and interior space is also good. It's also a comfortable car with a quirky style, which helps it stand out in a very competitive part of the market.
Fords have been popular in the UK since the dawn of time – well since they were first sold over here at least – so it seems almost natural to mention the EcoSport. Despite being based on the Fiesta, it's fallen short of the driving dynamics that its stablemate is able to offer. However, it's sold a competitive price and the new model looks a lot better than the last one, especially if you get it in ST-Line guise. However, it's far from the most practical car in its segment.