Last year I drove the new Mokka X, and earlier this year I drove the Crossland X. That means that I needed the Grandland X to complete the Vauxhall 'X' hat-trick, which I was able to do last week when I tested an Elite Nav model. This is the brand's biggest and newest SUV, and the second model to be built on a PSA platform. But is it any good?
Does it offer good kit?
The Grandland X is offered in a choice of five trim levels; SE, Tech Line Nav, Sport Nav, Elite Nav, with Ultimate serving as the range-topper. Even the base model is able to offer a good level of kit, including 17″ alloys, 7″ touchscreen, climate control, rear parking sensors and cruise control to name a few, and is priced from £22,485.
The Elite Nav model tested here, starts from £26,660 and offers features such as 8″ touchscreen with navigation, 19″ alloys, leather seats, panoramic roof, heated front seats, wireless phone charging, OnStar system, and the Safety Pack to name a few. So it's clear to see it does have a fair amount of goodies, but it won't cost the earth to buy.
What engines/gearboxes are available?
The engine range is far from comprehensive, but it should offer enough choice for most buyers. There is just one petrol to choose from though, a 1.2 turbocharged unit that produces 128bhp with 230Nm of torque. It's the same engine I tested in the Crossland X and the Peugeot 3008, and I have to say, it's a rather good engine. It can be mounted to either a 6-speed manual or a 6-speed automatic gearbox.
Representing the diesel contingent is a 1.6 litre turbocharged unit, which produces 118bhp with 300Nm of torque, and a 2.0 litre turbocharged unit that offers 175bhp with 400Nm of torque. The former can be mated to a 6-speed manual or a 6-speed auto whilst the latter is only available in the Elite model and is available with an 8-speed auto – the same one used in the new Insignia.
Is it spacious?
Yes, is the simple answer to that question. There is plenty of room to be had in the front, although I found the storage areas weren't quite as good as some other SUVs I've driven, but there should be enough areas to throw your everyday items. Getting a good driving position is a piece of cake as the seat and the steering wheel offer a good level of adjustment.
Space in the back is decent as well, I had a good amount of legroom behind a driver's seat altered for my height and there was a good amount of headroom as well. It's worth noting that this model didn't have the panoramic roof as it has been specified with roof rails, but I would imagine there would be less headroom available if the pano roof was put back in place. The boot is not the biggest in class, but it's not far off, offering 514 litres with the seats up and 1,652 with them down.
Is it safe?
Yes – even the base model comes with safety features such as high beam assist, lane departure warning, speed sign recognition and rear parking sensors, so it's little wonder it was able to get full marks from Euro NCAP. However, the base model doesn't get autonomous emergency braking, but that is made available on higher trim levels.
The Elite Nav model is able to add enhanced safety features including blind spot assist, advanced park assist, auto dimming rear view mirror, and a safety pack which is made up of lane departure warning with lane keep assist, autonomous emergency braking and drive drowsiness alert.
What's it like to drive?
I'll be honest, I was a bit disappointed by the Crossland X, so I wasn't too sure what to expect from its bigger brother. Thankfully though, the issues I encountered with the Crossland X did not raise their ugly head in the Grandland X. The model tested was fitted with the zingy 1.2 litre turbo petrol, which offers decent performance and should be more than enough for most buyers.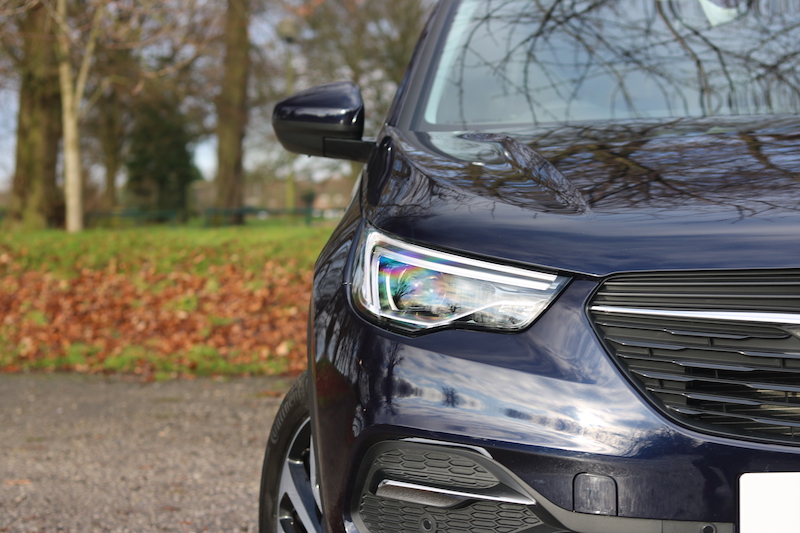 The engine is mated to 6-speed manual gearbox, which is thankfully better to use than the Crossland, and isn't as notchy. It's not perfect, but at no point did I feel the need to fill the car with blue language. The ride is also better thankfully, and it feels closer to what I've experienced in Peugeot's SUV, which it ought to, considering their built on the same architecture.
This means you get a ride that if soft and helps to soak up the bumps whereas the Crossland X felt almost needlessly firm, meaning it could prove tiresome on a longer journey. I predict there would be no such problem in the Grandland X, especially as the leather seats were very comfy indeed, and if I'm honest, they were one of the most comfortable seats I've experienced in a car.
Performance wise, the 1.2 litre may seem a bit small for a car a big as this, but in the real world it works rather well. In this model it'll hit 62mph in 11.1 seconds and the top speed is 117mph, which doesn't sound that great, but it's more responsive than the figures suggest. It's not too bad in the corners either, the steering has got a decent weight to and the body roll is controlled, but if you're looking for a dynamic drive, then take a look at the SEAT Ateca.
Also, it's worth mentioning that the Grandland X is not available with four wheel drive, but you can select a product called Grip Control, which offers off-road driving modes as well as mud and snow tyres.
In regards to economy, the 1.2 litre is able to offer 52.3mpg on a combined run, but if you want something a bit more savvy, have a look at the 1.6 litre diesel which is able to offer 65.7mpg (when fitted to the manual 'box). Naturally, the 2.0 litre diesel offers less economy than its 1.6 litre counterpart, offering a total of 57.7mpg. In regards to CO2, the petrol offers 124g/km (fitted with the manual gearbox), the 2.0 litre diesel emits 128g/km whilst the 1.6 litre diesel emits 111g/km (fitted with the manual gearbox).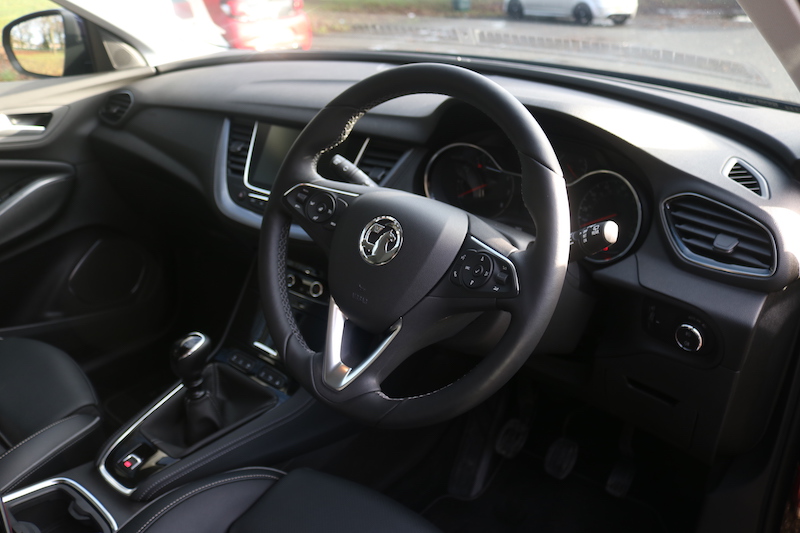 The Grandland X offers a good level of refinement, but the Elite Nav did have some audible tyre noise thanks to the 19″ rims, so you may want to look at lower specc'd models if this is going to be an annoyance but the noise isn't overly intrusive. Wind noise is of a good standard and at cruising speeds the engine is quiet, making for a pleasant driving experience. Visibility is good as well, although the rear window isn't the biggest, but thankfully the rear parking sensors help to cure that problem.
Final Thoughts
What Vauxhall has in the form of the Grandland X is a solid entry in to the large SUV segment. It may not be the most stylish or the best to drive, but it offers a good amount of kit and space for a reasonable price. It faces tough rivals though, with cars such as the Peugeot 3008, Nissan Qashqai and the SEAT Ateca all available for a similar price. The limited engine choice may be a barrier for some buyers though, so that could well go against people opting for the Grandland X.
Car Obsession Initial Rating: (3.5 / 5)