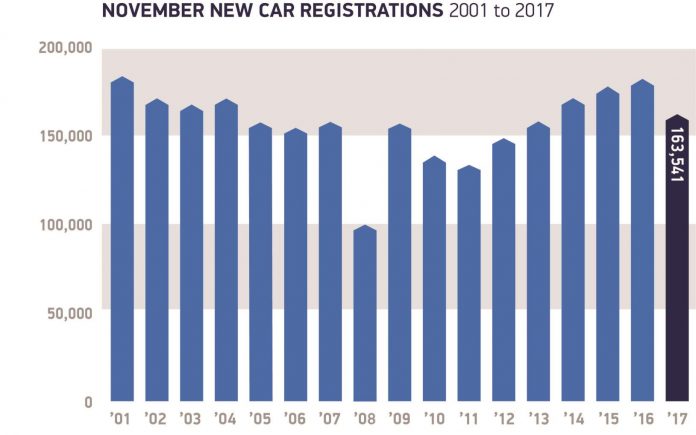 Ever since the change to the VED in April, the UK new car sales market has been on the decline, and figures from the SMMT reveal that November was no better. This means that UK car sales have fallen for an eighth consecutive month, with diesel taking the brunt of declining sales.
How bad is it?
Figures show that the new car market saw a -11.2% decrease compared to the same period in 2016 as 163,541 cars left dealer forecourts compared to 184,101 last year. As mentioned, diesel cars took the biggest impact as sales for this market fell by a substantial -30.6%. On a more positive note, sales for petrol cars were up by 5% and alternatively fuelled vehicles (AFV) rose by 33.1%, however that wasn't enough to balance out the big decline in diesel sales.
Year-to-date, things aren't quite as bad as the market has a whole decreased by -5.0% with 2,388,144 units sold in 2017 compared with 2,514,764 sold at this time last year. The biggest success story from this is to be found in the AFV market, which has risen by 34.6% year-to-date compared with 2016.
What are the best sellers?
It should come as little surprise that the Ford Fiesta is not only the best selling car for November (6,434), but it's also the best selling car year-to-date with a total of 89,504 cars sold. The Volkswagen Golf follows behind in second with a total of 5,831 cars sold in November, and 68,396 cars sold year-to-date. The Mini was the third best selling car in November with 4,335 but it's the Ford Focus that is the best selling car so far this year, with 66,279 cars sold.
Mike Hawes, SMMT Chief Executive, said, "An eighth month of decline in the new car market is a major concern, with falling business and consumer confidence exacerbated by ongoing anti-diesel messages from government. Diesel remains the right choice for many drivers, not least because of its fuel economy and lower CO2 emissions. The decision to tax the latest low emission diesels is a step backwards and will only discourage drivers from trading in their older, more polluting cars. Given fleet renewal is the fastest way to improve air quality, penalising the latest, cleanest diesels is counterproductive and will have detrimental environmental and economic consequences."