Prestige car dealer H.R. Owen has announced it has a very special Aston Martin Vanquish Volante. It's so special that it's a one-off. To give the car its proper name, the Aston Martin Vanquish Volante AM37, has been built by the brand's Q branch – but what does it actually have?
Exclusive
The car features Concours Blue paintwork, which is contrasted by Q exclusive Semi Aniline leather interior finished in Chestnut Tan with 'White Essence'. The car itself was commissioned by the brand to celebrate the partnership with Quintessence Yachts and also features styling cues from the AM37 powerboat.
As well as exclusive leather, this one-off Volante also features Q Exclusive interior, Q Conker Saddle carpets with Q exclusive Conker Saddle overmats, Q Rosewood High Gloss Fascia, Q Fender and Buckle Badges with white enamel infill and a full Q matching tailored luggage set. A lot of Qs in there then…
The car also comes with a special plaque that reads: "specially commissioned by Q to commemorate the AM37 yacht launch – 1 of 1." In terms of power, the AM37 features Aston's 5.9 litre V12 engine, meaning this super-exclusive Volante can hit 62mph in 4.1 seconds and a top speed 183mph, which is sure to be plenty for pretty much everyone.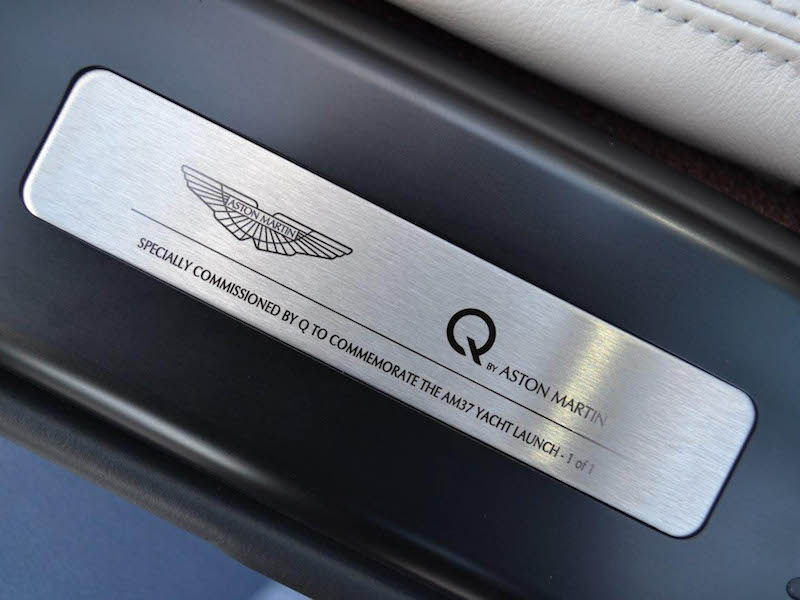 Well, How Much Is It?
It will be offered by the Reading branch of the H.R. Owen for the very tidy sum of wait for it – £236,950. Ouch, that is a lot of money. In fact my wallet has just cowered in my pocket. Still though, it's an Aston Martin…
Ian Barrow, General Manager of Aston Martin Reading, said: "We are absolutely thrilled to be able to offer this completely unique Vanquish Volante to a very lucky buyer. It's a one-of-one car that isn't available anywhere else and is the ultimate piece of Aston Martin memorabilia. And as it was commissioned in line with the launch of the AM37 powerboat, it's a true luxury product and a celebration of automotive and nautical excellence."