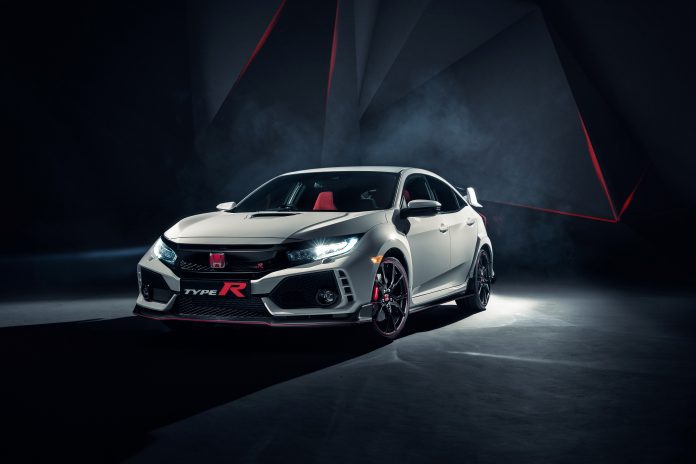 Good evening everyone! The Geneva Motor Show is sadly over, and as a result, the news has become a bit slow. So instead of you bringing news about Renault celebrating 100,000th leased EV battery – real story by the way – I thought I would mull over the new Fiesta ST and the new Civic Type R.
These were two of the real highlights at the Geneva Motor Show in terms of hot hatch and on paper that look pretty tasty. In fact, it's enough to induce dribbling. However, no matter how much I read about either car, I'm just struggling to warm up to them. The reason I'm afraid, is a rather shallow one.
The Looks
I like the current Honda Civic Type R, yes it's a lairy as a football hooligan and if it were a human, it would be forever thrown out of clubs by two burly bouncers. But for me, a hot hatchback should be bold. As much as I respect the VW Golf R, it's so conservative that you could easily mistake it for a normal Golf from a distance.
The new Type R follows the same ethos and philosophy, it's a hot hatch at maximum attack. With its massive rear wing and its aggressive bodykit, this is a hatchback that will take no prisoners. Well I say that, but Honda has actually added a new 'Comfort' driving mode, so even James May can enjoy this Japanese pocket rocket. You get what I mean though.
However, as I've said numerous times, I think the new car looks too long and too flat, to the point where I think the front looks a bit like a saloon. I like the proportions of the current car, it looks a bit stubby but angry at the same time, like a short man with a temper.
I will admit it didn't look half bad in those release pictures where it features that brushed finish, but in the red used in Geneva? That was too bold if you ask me. And those three exhaust pipes with that smaller one in the middle? A bit barmy if you ask me. It does serve a function, and some may like it, but I just think it looks a bit out of place.
And The Fiesta ST?
The new Ford Fiesta ST may have those wonderful new alloys, which I really like, and a new Liquid Blue paint option, but I think the back somewhat ruins it. Why has Ford chosen to use rear lights that wouldn't look out of place on the C-Max or the Galaxy? The rear may have a rear diffusor, a double exhaust pipe and a rear spoiler, but it doesn't look as dynamic as the current model if you ask me.
Thankfully though, the cabin has been decluttered and has been brought in the modern day. Long gone is the dash covered with a plethora of small buttons that need the precision of pianist to use whilst on the move. Instead there is a new Sync3 system, which features a nice big touchscreen. The Recaro seats are a mainstay of course, although I anticipate, there will be an option for some more hardcore buckets, like those available for the Focus RS.
Plenty of Potential
The thing is though, despite my gripes with the styling of both cars, I simply cannot fault what they can both offer on paper. The new Civic Type R will boast 10 more bhp, meaning a total of 316bhp, with 400Nm of torque. This is mated to a 6-speed manual gearbox which now has a rev matching system and the aforementioned new driving mode. It's going to made in Britain but it's Germany where the car's focus is.
This is because Honda is aiming to reclaim its lap record around the Nürburgring for a front-wheel powered car. The VW Golf GTI Clubsport S gained the new record last year, posting a time of 7:49.21. The Fiesta ST on the other hand has lost a cylinder, but somehow managed to squeeze out more power – 197bhp to be exact.
That kind of power from a 1.5 three-cylinder unit is quite simply witchcraft. The new car also features three driving modes, which is a first on a fast Fiesta. These are normal, sport and track. The cabin has been refined and like the current model, will have exhaust noise fed in to it for better sound.
Final Thoughts
So there is plenty to be be excited about with both models, but for some reason I'm struggling to get past the looks. In fact, I prefer the looks of current models of both cars. Am I being fussy, or are the looks of a hot hatch just as important as what's underneath? Get in touch, let me know your views.