As some of you may know, I own a third generation SEAT Ibiza FR, and have done for over three years now. I have already tested the 1.0 litre version of the new FR, but I was yet to test the more powerful 1.5 litre petrol. Seeing as it offers 148bhp – the same as my FR – it seemed only fitting to take my car along to serve as a comparison. 12 years separate these two cars, so there will of course be some differences, but after all, they're from the same bloodline.
Why So Blue?
Both cars look great if you ask me, but I definitely prefer the new model, especially in the optional Mystery Blue paint chosen for the model tested here. Desire Red is also another strong colour choice as well, but whatever the colour, the Ibiza looks fab. To look at, it's essentially a scaled down Leon, which by no means a bad thing. There is one sticking point though – the exhaust pipes. They make look genuine from a distance, but do not be fooled, those tips are as fake.
My car has a subtle, but muscular look and I have to say I do rather like it. Well, I ought to, I bought it after all! This third generation FR is finished Glacier Blue, which is actually a rare colour for my generation of FR. Both the new and old FR come standard with 17″ alloys, although the new FR tested here has got the optional 18″ alloys, which look great, but I'd hate to kerb them.
Let's Talk Power
Both cars produce 148bhp, albeit with different methods. My FR is fitted with 1.8 litre turbocharged petrol, whereas the new model has downsized, with a 1.5 litre turbocharged petrol. The new engine may be smaller, but it does offer more torque. 250Nm is produced from this engine whilst my car has to make do with 220. Both cars will hit 62mph in around 8.0 seconds, although the new car is a tad faster thanks to that increase in torque.
Both cars will hit a top speed just north of 130mph, so it seems quite even so far. Where the differences really come in to play is economy. The new car is able to offer up to 57mpg on a combined run whilst my car offers a less impressive 35. Oh dear. Things are just as bad when it comes to emissions. The 1.8 emits a rather dirty 187g/km but the new, more efficient engine emits a more acceptable 112g/km. The 1.5 litre petrol also has cylinder deactivation to increase efficiency even further.
Larger, More Spacious
The new Ibiza is a bigger car in every direction, so you would expect there to be more room inside. That logic rings true, as the new model has a noticeable increase in legroom, plus there's a little more headroom as well. The boot is also bigger as it offers 355 litres, which is almost 100 litres than the 276 offered in the third generation model. If that isn't progress, I'm not sure what is.
A Love/Hate Relationship
I'll take the approach of age before beauty, therefore let's start with my car. I have a bit of a love/hate relationship with my car. Firstly, I love the turbo. Yes, it has a bit of lag, but hearing that whistle brings a smile to my face. Sure the turbo whoosh is a bit muted and can easily be drowned out by the radio, but it's like a little treat now and then. I also like the fact that it's faster than people would assume as the car has got quite a toned down exterior.
I also like the heavy clutch, it just makes the car feel more mechanical. Sure, it does present a problem in stop/start traffic, especially as I've got a bit of a dodgy left knee following an old football injury. The 5-speed manual gearbox is a tad notchy, but on the whole it's slick enough for its purpose and you can make some pretty quick changes. Unfortunately, the steering is not as heavy and in fact it's a bit too light for liking, which is a disappointment for a car like this.
The ride comfort is another area of complaint. I'd even go so far to say that the ride is hard rather than firm and it means the car can be wearing to drive on longer distances. The low profile tyres don't help matters and they do generate a fair amount of tyre noise. Then handling isn't exactly outstanding, but it's been just enough to keep me satisfied throughout the years. Enough about my car though, what's the new one like?
More Grown Up, More Refined, Still Fun
It's no secret that the new SEAT Ibiza is a more grown up car, and is the first to be built on VAG's MQB A0 platform. The car's new refined nature can be found in the FR variant. That's not to say it's given up on life and become a bore. Compared to my FR, there is less turbo lag – although there is still a little bit – and the power delivery feels more linear. As a result, it doesn't have the same kind of surge as my FR, which is a bit of a shame, but on the whole it's more efficient.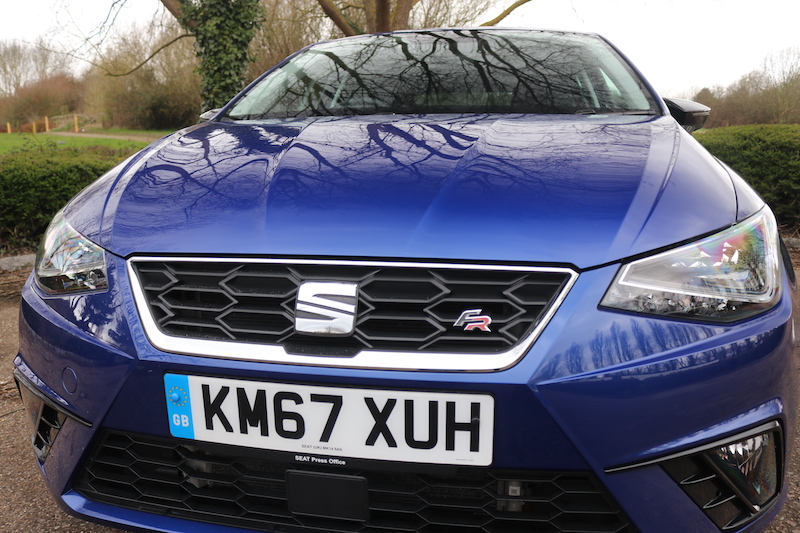 The way in which the car composes itself is also more efficient. Even though this car has sports suspension and 18″ alloys, the ride is surprisingly compliant. Yes, there is of course an element of firmness, but unlike my car, it's never crashy when you hit potholes and it's able to iron out of most of the bumps. The chassis offers better handling and there is more grip to be had to – even in the wet the car didn't want to give up its cling to the tarmac.
Let's not forget that the new car has four different driving modes; Eco, Normal, Sport and Individual. All the names are pretty self explanatory, and control how responsive the throttle is and how heavy the steering is. In Sport mode the steering has not a nice weight to it, although, I'd still want it to be a bit heavier. Mind you, that's personal preference as I like my steering on the heavy side.
I have to be honest, there is a lot to like about the new FR and given the choice I would easily have this over my car. This decision did shock my wife somewhat, but for me it's a no-brainer. The new car looks better, has more equipment, higher safety levels, more space, and it's more efficient without sacrificing power. I just wish it had a proper exhaust pipe…