Last year I had a quick spin in the new Ford Fiesta Trend, and although it was a car that's likely to tick many boxes for potential punters, the naturally aspirated 1.1 litre petrol engine was a bit…lethargic. What the Trend could have really done, with is the choice of Ford's award-winning 1.0 litre EcoBoost engine.
It seems as if the big wigs at the Blue Oval agreed, as said engine now features in the Trend as well as LED headlights, which weren't available when the car was first launched last year. That does mean the price has gone up a little bit, but it's still around the same price as its rivals, whilst offering a similar amount of kit. Speaking of kit, Trend is the new base model, taking the place of the Zetec model.
With a starting price of £16,140 – that's a for three door model fitted with the 1.1 NA petrol – the Trend offers standard features such as 16″ alloy wheels, LED headlights (low beam), privacy glass, 8″ touchscreen, DAB radio, Bluetooth, smartphone connectivity, selectable drive modes, air conditioning, electric windows front and rear, lane departure warning, and autonomous emergency braking to name a few.
I won't lie, the car on test isn't exactly a bargain, as it's over £18,500. This is thanks to the 1.0 litre EcoBoost engine as well as options including the Chrome Blue paint, navigation, City Pack, which gives you rear parking sensors and electric folding door mirrors, and the comfort pack, which provides heated front seats and heated steering wheel. Those eagle eyed amongst you will also note that this car is a five door, which adds £500.
What's it like to drive?
As mentioned earlier, the Trend is now available with Ford's popular 1.0 litre turbocharged three cylinder EcoBoost petrol engine. In this model it offers 95hp along with 170Nm of torque – that's 125 lb ft if you prefer the old method. Mated to a 6-speed manual gearbox and front wheel drive, this engine will reach 62mph in 13.8 seconds, and the top speed is 105mph.
It's not the quickest Fiesta around, but it's got more torque than the naturally aspirated 1.1 litre petrol I tested last year. This engine also allows you an extra gear as well, but there's no option for an automatic, in case you're wondering. There is the option for a diesel, though, if you want such an engine.
Despite the diesel option, the EcoBoost is the engine to go for if you're looking for the best fuel economy as Ford states it will offer up to 64.2mpg on a combined run, with CO2 emissions of 94g/km emitted. The diesel isn't too far behind, whilst the 1.1 litre petrol is the least efficient, but it'll still be cheap to run.
This 1.0 litre EcoBoost may seem a bit slow on paper, but in real driving conditions it's not as pedestrian as you may think. It feels spritely enough, although it may struggle if the car is fully laden. The 6-speed manual in which the engine is attached to is pleasing to use, and overall, the Trend feels every bit as satisfying to drive as any other Fiesta.
This means you get a supermini that has a nicely balanced chassis, and as a result it's rewarding to drive. It's comfortable and compliant, but still enjoyable to thread through corners. There's also a choice of three driving modes, Eco, Normal and Sport, so there's more than one way to drive the car, depending on your mood.
Sport mode will of course be the one to keep locked in if you want the most amount of fun as it sharpens the throttle and also makes the steering a bit heavier. The steering has got a satisfying weight to it, even out of sport mode, and the steering wheel itself feels nice in the hands.
To be honest, there's not really any areas where the Fiesta is lacking, so it's little wonder why it's been the best selling car in the UK for around a decade now. The Trend may be the base model, but still retains the fun factor that the Fiesta has become well known for, and the EcoBoost engine is definitely a factor here.
It's pretty much the perfect supermini then?
Erm, no. There is no doubt that the Fiesta is a competent supermini, but it's not without its faults. Practicality is one of the stumbling blocks of the Fiesta as it hasn't got the biggest boot in its class, and in fact the 8th generation of the Fiesta has a boot that's only 2 litres bigger than before.
292 litres is on offer the rear seats up, but 1,093 litres can be freed up if you fold the 60/40 rear seats down. There is quite a large step in to the boot, so you may want to consider this is that trait is going to be something that will be of annoyance to you.
Rear space isn't much better, either. It's by no means dire, but a taller adult is unlikely to want to sit in the rear for a longer journey. Granted, it's a supermini, so it's not designed to be uber spacious in the back, but at the same time cars like the SEAT Ibiza offer a noticeable improvement compared to the Fiesta.
On the plus side, getting a comfortable driving position is easy as quite impressively, the steering wheel adjusts for rake and reach, which isn't always the case in an entry-level supermini. The seat also offers a good level of adjustment, so I doubt you'll have a lot of trouble getting a driving set up that's comfortable and efficient.
High safety standards
Even the Trend trim level comes with Ford's NCAP pack as standard. This gives the car features including automatic headlights, speed limiter, hill start assist, autonomous emergency braking and lane departure warning. There's also six airbags as well, and all of this safety kit enabled the Fiesta to earn five stars from Euro NCAP.
Final thoughts
I think Ford made the right decision to offer the Trend with the EcoBoost engine as it's helped to give the car the character that the Fiesta has become well known for. It feels revitalised compared to 1.1 litre petrol version I drove last year, but I fully appreciate that for some the EcoBoost may stretch the budget too much.
If you can, though, do it, as you'll get a value-for-money supermini that's as enjoyable to drive as it is cheap to run. However, no matter which version of the Trend you go for, you'll get a small car that has a lot to offer.
Car Obsession Rating: (4.5 / 5)
Pros:
Good value

Enjoyable to drive

Generous level of kit

Cheap to run

Improved engine choice
Cons:
No automatic gearbox option

Not as practical as rivals

Some rivals are cheaper
Rivals
Peugeot 208
The 208 is, in my opinion, the best looking supermini on the new car market right now, so that alone is going to make the car enticing. There's also the option for an electric platform, which is something the Fiesta cannot offer, so that could be the swaying point for buyers.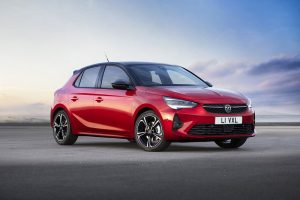 Vauxhall Corsa
Like the 208, it's a handsome looking car, and it's actually built on the same platform as the 208, meaning there is an electric version of the Corsa as well. It offers a bigger boot than the Fiesta, although to be fair, there's not much in it, and it's also a bit cheaper as well.
The SEAT Ibiza is an impressive supermini with a lot to offer. It's got sharp looks, generous space, a refined interior and a decent amount of kit, so I'd argue this could well be the biggest rival for the Fiesta, especially as the Ibiza also offers a rewarding drive.