Ever looked at a Caterham Seven 620R and thought "That's a bit too savage"? It's ok, because there's a model below that, which could well be for you. The Caterham Seven 420R is no slouch though, and it still requires a fair amount of skill and bravery to take the helm. It shares the same 2.0 litre Ford Duratec petrol engine, but it lacks the supercharger that creates a whole new breed of track-destroying monster found in the 620. It may not have the supercharger, but it's the most powerful naturally aspirated model Caterham can offer you right now.
How fast is it?
Despite the omission of a supercharger, the 420R is far from what you'd call slow. 60mph is dealt with in under 4.0 seconds and if you've feeling really brave, you'll be able to hit a top speed of 136mph. True, that's not supercar fast, but bear in mind this car weighs about the same as a packet of crisps. Also, the seating position is so low that you're almost convinced the tarmac will graize your bumcheeks, meaning the sensation of speed is amplified.
As you would expect, the power is fed to the rear wheels via a 5-speed manual gearbox that has the shortest of throws with precision that's slicker than an oil spillage. This is the R version, meaning it's more track focused than the comfort-based S model. As standard, you get four-point harnesses, a lightweight flywheel, limited slip diff, an uprated brake master cylinder, composite race seats, sports suspension and a shift light to name a few.
Oh dear, this all sounds terribly uncomfortable
It's not as bad as you may think. Granted, the standard composite seats are far from ideal if you're travelling medium to long distances, but then again, this car is not a grand tourer. Despite this, the model tested here offers agreeable comfort levels thanks to padded leather seats that have been fitted as optional extra. The suspension isn't too hard either, just make sure you don't hit any potholes though…
The model tested here is also built on Caterham's SV chassis, which is wider and longer than the traditional Caterham body. This means there is more space inside for occupants, and the boot is bigger as well – as is the petrol tank. This does make the car 25kg heavier though, but you'd really need to focus to notice the slight increase of weight. Despite this small handicap, this car still tips the scales at just 585kg. A fatso then, it isn't.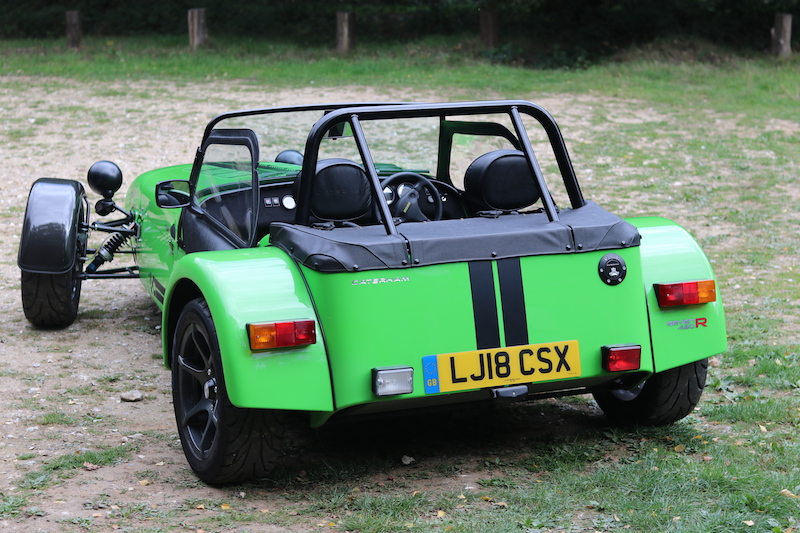 Right, enough about comfort, how does it drive?
After firing up the naturally aspirated 2.0 litre Ford engine and travelling a few yards, it's clear to see that the Seven 420R is a bundle of raw, visceral energy. It's loud, it vibrates like a pneumatic drill and it offers plenty of feedback. As with all other Caterhams, there are no safety aids, therefore the only thing keeping you on the straight and narrow is sat firmly in the driver's seat. If you mess it up, there are no clever safety systems that will act as a safety net.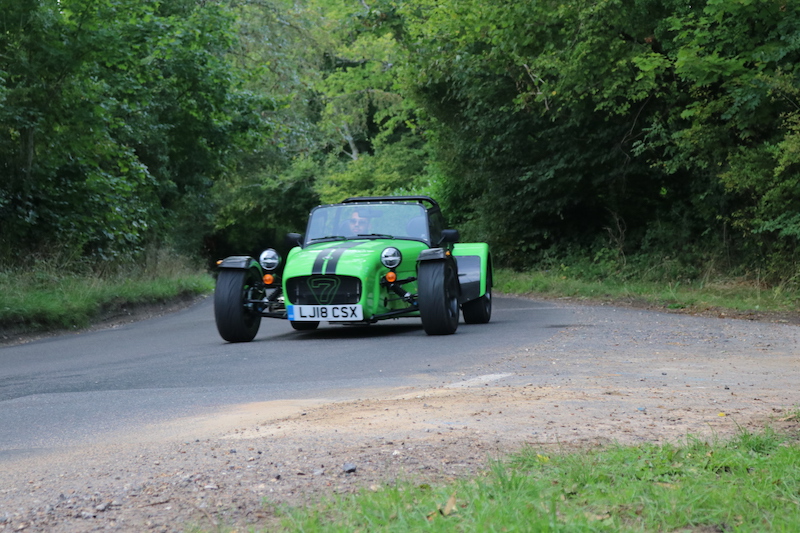 There are many cars nowadays that are so advanced that they will flatter the driver, no matter how ham-fisted they may be. The Caterham does not fall in to that category though; this is a car to be driven and you need to work at it. This is a car that requires your undivided attention, which is just fine, as it's a car that is fully worthy of it.
So it's intimidating?
To begin with, it is a little. 210bhp may not sound like much – some hot hatches have more than that – but when you have that kind of power in car this light, it feels like an absolute rocket. Couple that with a manual gearbox that needs a firm pull in which to change it, the 420R feels like a bit of a beast, especially on public roads. You'll short shift to begin with to help keep that power under control, and to stop the rear wheels lighting up as well.
However, it's like breaking in a horse – the more you keep at it, the more you get to know the car's character. You may also find yourself inadvertently riding the clutch, as there is nowhere to put you left foot, despite the extra space of the SV chassis, meaning that you need to leave the sole of you foot resting gently on the clutch pedal.
From fear to enjoyment
Once you get past the initial fear of just how ferocious the 420R can be when you attack the throttle, you'll soon find the power thrilling and intoxicating. The engine may be NA, meaning it needs to be revved to get the most out of it, the 420R picks up pace very quickly, as does the noise. Not only is the car fast, but it handles well as all Caterhams do. The R pack means this model receives a limited slip diff and adjustable sports suspension.
It also has an uprated master brake cylinder and super sticky Avon ZZS tyres at each corner. Don't forget there's no power steering either, so the feedback is nothing short of phenomenal, plus you can see exactly what the front wheels are doing. The steering is so sharp, I'm surprised the steering wheel didn't try to cut my hands open whilst I threaded it from corner to corner.
This car offers so much fun, it makes you wonder how it's even legal. If you drive this car and you can't crack a smile, then I'm sorry, you're dead inside – there is no saving you. There is so much to enjoy from this car, that every drive feels like an occasion. Every time you drop yourself in to the 420R's cockpit it feels special. This is not only because it's just such an immersive car to drive, but it's also a car that gets a lot of attention from those you drive past, especially as this car is finished in a rather fetching Gelbgrun Green – a Porsche colour, no less.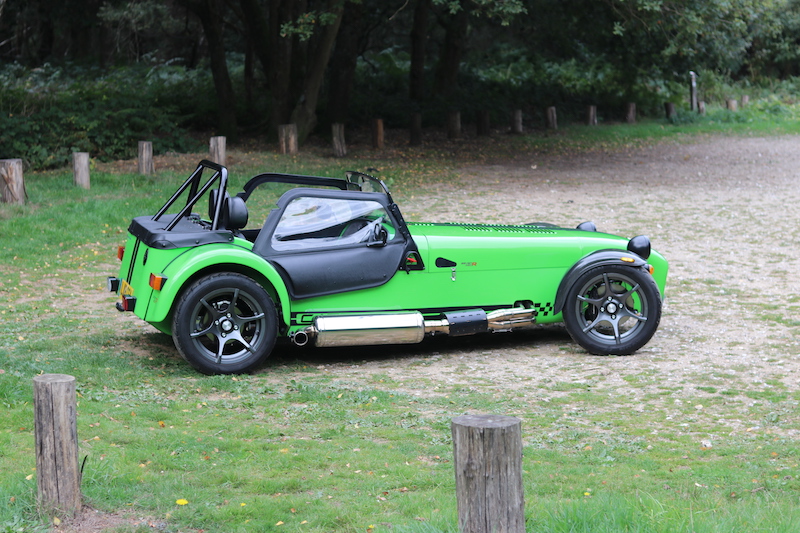 This is definitely not a car for posers though, as this little car is a serious weapon. As mentioned above, it handles superbly, plus as you would expect, it feels super agile, thanks to a lack of weight. Even though it weighs a bit more thanks to the enlarged body, it's still around half the weight of an MX-5. Yes, the MX-5 is more practical and easier to live with day-to-day compared to the 420R, but it saddens me to say (I own a Mk1 MX-5) that it can't beat the 420R for sheer driving fun.
What is it like to live with day-to-day?
You won't be surprised to hear that the Caterham Seven 420R is not an overly practical car to live with, even in its larger, SV form. Sure you get a slightly bigger boot, but it's far from gargantuan. That said, if you're smart about your packaging, you can just about squeeze enough in for a weekend away. The longer body also means that visibility at junctions is impaired, as the bonnet arrives at the give way markings a long time before you do. This means you need to lean forward as much as you can to try and see, which is tricky when you have a four-point harness holding you back.
You would also have the pitfall of owning a car with no roof. The car tested here came with weather proofing, so I had doors and a roof for when the weather got a bit iffy. The roof is quite fiddly to get on however, but once you get the knack, you can have it down to a fine art. Mostly. These are just the quirks of the car though, and they really add to the character, whether you like it or not. Getting the car with the roof on is also a challenge, but once you're inside, you'll find you'll have more headroom than you were probably expecting.
Can you use ALL the power?
If you ever read my review of the Seven 360R, you'll know that I questioned whether or not it was too fast to fully enjoy on the road, and I stated it was borderline. This car is even more powerful of course, so the question seems even more relevant now. Thankfully, Caterhams are good no matter what speed you go, however, if you really want to push the car, then I strongly advise you visit your local race track, as trying to find the limits on public roads could end in tears…
This car is rocking sticky, semi-slick tyres that need a decent amount of heat through them to get the most out of them, so you'll need to make sure it's not too cold, and of course dry. A Caterham in the wet can be quite a bum clenching experience. I've driven two Caterhams in heavy rain, and let me tell you, it keeps you on your toes.
How much is it?
Ah, I was sort of hoping you wouldn't ask that question, because it's far from what you could cheap, especially as this is a car that's more of a weekend blaster than a weekday commuter. It's also the sort of car that will live a similar life to an ice cream van – only out in the summer. Right, that's enough delaying, let's tell you the price. It starts from £33,990, which doesn't seem too bad to begin with, but the model you see before you has got quite a few options.
These include factory build (£2,500), the Gelbgrun Green paintwork (£1,000), weather protection (£1,250), wide SV chassis (£2,500), LED daytime running lights (£800), quick release steering wheel (£150) and much more. This means the car on test here is – I hope you're sat down – £47,005. Granted, you don't have to spec you 420R to this level, but as tempting as the options are, the cost can quickly mount up – much like a German car.
Is it worth it?
For sheer fun alone, yes it is. There's not many cars that can offer such a raw, involving and visceral, so although from a practical level, the 420R doesn't offer a great deal, as an experience, it's a gift that keeps giving. Plus, it's not as if this is the most expensive car of its kind going – a BAC Mono will cost you around £125,000. I know, I know, it's a more powerful car, but you get my point. That car also offers just one seat as well.
Final thoughts
I applaud brands like Caterham to continue their efforts in to making cars like the 420R. In a world that is rapidly becoming 'hybrid this', and 'autonomous that', it's refreshing – and reassuring – that you can drive a car that is all about unadulterated driving thrills. It's not exactly a bargain of the century, but as soon as you turn over the engine and drive it a few yards, you simply won't care.
For more information about Caterham Cars, head to http://uk.caterhamcars.com/