It's difficult to talk about the latest Mazda MX-5 without talking about its history, its pedigree and of course, you have to mention that over a 1,000,000 have been sold since the car first went on sale in 1989. The MX-5 then, is almost the byword for a two-seater roadster, so one would not envy the Japanese brand when it came to making the latest model, the Mk4. Or ND, if like me, you like to speak in geeky model codenames.
What's New?
Compared to the previous model, the Mk4 is lower, shorter and wider, plus it's lighter. In fact, Mazda states this is the lightest model to go on sale since the iconic Mk1. You know the one, it's got the pop-up headlights that will always be cool. Speaking of styling, it's clear to see that the Mk4 is more aggressive in its look. You get a sense that it grew tired of being called cute, so now it wears a permanent frown. Completing, the 'What's New?' segment are increased safety features such as the optional lane departure warning, not that will be the main aim of buying a car such as this.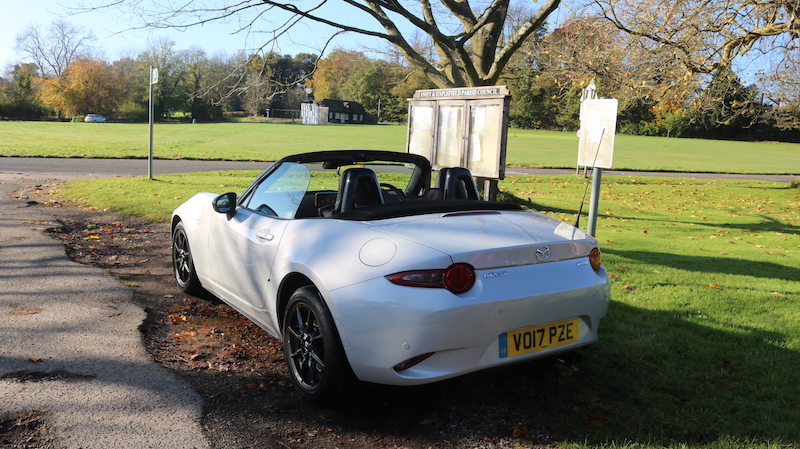 What Kit Does It Have?
Much like the FIAT 124 Spider in which it's made in conjunction with, the MX-5 is offered with three trim levels. Naturally they have different names compared to its Italian sister. You have SE acting as the base model, SE-L Nav as the mid-range, and Sport Nav as the range-topper. The prices range from £18,795 to £24,195 depending on what trim and engine you go for, but if you prefer the fancy metal folding roof that the RF offers, then expect to pay a bit more still.
The base model offers LED headlights, 16″ alloys, electric windows, and air conditioning, but it goes without features such as Bluetooth, DAB radio and cruise control. You'll also only get the choice of one engine –  the 1.5 litre –  so I would personally avoid that spec, not unless you're desperate for an MX-5 and you're on a bit of a budget.
The mid-level SE-L Nav, priced from £20,495, is more generous as that adds the aforementioned Bluetooth, DAB radio and cruise control. On top of this, you'll get the 7″ infotainment system, climate control, LED daytime running lights, and of course, navigation. You can also choose from either the 1.5 litre or the 2.0 litre petrol engines.
Completing the range is the Sport Nav model, which is the model tested here. Priced from £23,095, it adds Gunmetal alloys (still 16″), keyless entry, adaptive front lighting, automatic lights and wipers, rear parking sensors, BOSE sound system, and an auto-dimming rear view mirror.
What about the engines?
Unlike the turbocharged FIAT 124 Spider that has just one engine choice, the new Mazda MX-5 is available with either a 1.5 litre petrol or a 2.0 litre petrol, both of which are naturally aspirated. The 1.5 offers 129bhp with 150Nm of torque, whilst the 2.0 litre offers 158bhp with 200Nm of torque. Both are mated to a 6-speed manual gearbox with power being fed to the rear.
The 1.5 litre petrol will hit 62mph in 8.3 seconds with a top speed of 127mph whereas the 2.0 litre shaves a second off with a 0-62 time of 7.3 seconds and there is an improved top speed of 133mph. The 2.0 litre is on par with the 124 Spider as they have almost identical 0-62 times and top speed. If you'd like to know more about how the 124 Spider performs, then check out this review.
On a more boring note, let's talk about economy. The 1.5 litre offers a combined figure of 47.1mpg with 139g/km of CO2 emissions whereas the 2.0 litre offers a predictably lower 40.9mpg with 161g/km of CO2. Let's be honest though, no-one in their right mind buys an MX-5 to be frugal or to save polar bears.
How does it drive?
The new MX-5 could have well been a victim of its own success, but I'm happy to report it's as good as ever. As mentioned earlier, this is the lightest MX-5 since the original and it doesn't take you long to realise that. Having stepped out of my Mk2 MX-5 and in to the new one, I could quickly tell the car felt more nimble, better balanced. Fitted with the 1.5 litre petrol, it has a kerb weight of just 1050kg – 40kg less than 124 Spider.
It also corners flatter than the 124 Spider and it's more direct too, so this is definitely a better option for those looking for something more driver focused. The pedals are laid out wonderfully and I had great joy in heel-and-toeing in to corners as well as rev-matching when I needed to change down for more power. This is just as well, as the gearbox will needed to worked often in order to keep the power on due to it being a bit down on power.
The gearbox itself is predictably good, but I'll be honest, it's not perfect. The throws are precise and short enough, but it just feels a bit too light for my liking. It doesn't have the same firm, mechanical feel that I enjoy in my Mk2. The clutch is also a lot lighter too, but on the plus side it will make it an easier car to drive, making it more accessible. The brake pedal, however, has got a satisfying weight to it and the brakes themselves are sharp and crisp.
Steering is a big deal in cars like this and whilst it's decent, it could with a bit more weight and I felt it lacked in communication somewhat. It's far from awful, but it's just not quite as sweet as I expecting. The car is still great fun through the corners though and because the model is the Sport Nav, it has firmer suspension for better handling. This does mean that the ride comfort is not as supple as the SE or the SE-L Nav, but at no point would I say it was uncomfortable. There is however, still a bit of body lean though, so it's not the flattest through the corners.
One of the great things about the 1.5 variant is just how usable the power is. You can really throw it about in the corners and wring its neck out without fear that you're going to end up in a ditch. It's very accessible and it's rewarding to know you can use all of the car without needing to change your underwear. At this point, I'm tempted to say "mission accomplished" and to leave it there.
More power, more fun?
However, this is the matter of the 2.0 litre model to contest with. Thankfully I was able to have a quick spin in a 2.0 litre variant towards the end of the day. With better performance, bigger brakes and a limited slip differential, this turns the MX-5 in to a different beast altogether. The fundamental formula hasn't changed, but the 2.0 litre feels a bit more grown up and robust. It's only 25kg heavier and you might not think you'd notice the difference, but I definitely noticed it once I hit a few bends.
At no point does it feel heavy, but at the same time it doesn't have the same balance and poise as it's 1.5 litre counterpart. Funny what difference 25kg can make isn't it? The RF with it's electric origami roof adds an additional 40kg so if you want the purist drive possible, I'd urge you to go with a 1.5 litre soft-top.
You may think that the 1.5 litre is therefore a no brainer, but if I'm going to be honest, I prefer the extra punch offered by the larger unit. On paper the difference isn't exactly night and day, but on the tarmac there is a clear difference. The 2.0 litre has more grunt in the mid-range and it pulls harder thanks to the extra torque. It's a better cruiser too, so it will be a better companion on motorways.
Some may find the better balanced 1.5 more fun, and on the right road, you don't really need the additional grunt, but after driving the 2.0 litre, I personally think I would miss the extra power. To me, it makes the car more intoxicating and I think that would keep me entertained for longer if I were to own one. You also get the benefit of the limited slip diff and bigger brakes as well.
Final Thoughts
It must have been quite a daunting task for the Mazda engineers when it came to producing the Mk4, but they needn't have worried as the new MX-5 is a joy to behold. I'd recommend the 1.5 litre if you want a pure, balanced driving sensation and the 2.0 litre if you want more power and if you plan to do a fair few motorway miles.
I'll be honest, I don't think you can really go wrong with either model as they both offer up a great amount of fun and I could have driven either until the petrol ran out. If I were to recommend trim levels, I would urge you to dismiss the SE as it's a bit too spartan. The Sport Nav offers a good level of equipment, but the firm suspension and the higher price may put some off, so the SE-L Nav appears to be the sweet spot.
The MX-5 is a fantastic car, but it's not perfect. To be pernickety, there are some areas which could finely tuned a bit more, but this is still with no doubt one of the most fun cars on the market today. Like the models before it, the MX-5 is accessible too, as anyone can drive it – young, old, male, female. Priced from just £18,795, it's good value too, so I can see little reason why the Mk4 cannot continue the roaring success of the world's favourite roadster.