Remember the 90s? It was a time when Tony Blair was in charge, the Spice Girls dominated the charts and mobile phones had buttons. It was also a time where the Ford Mondeo seemed to rule the world, so much so that its drivers earnt their own nickname – "Mondeo Man". Roll the clock forward two decades and the Mondeo has fallen out of view a bit due to the dominance of the Vauxhall Insignia. Is the Mondeo still worth buying though? Well I've been testing it to find out.
Design And Styling
This model is the ST-Line, which means the exterior gets treated with a sporty bodykit, a black honeycomb grille and 18″ alloy wheels, although the model tested had optional 19″ alloys fitted. Step inside and you'll find a steering wheel trimmed in perforated leather, sports pedals and sport seats, but other than that, the inside seems fairly standard. It's by no means a bad place to be, but it's not exactly exciting and I have to be honest, the Insignia offers a more premium experience.
The Mondeo counteracts by offering what I believe is a better outside package. The new Insignia – or Insignia Grand Sport to give its proper name – is fine looking thing, but it doesn't quite have the same amount of presence and muscle as the Mondeo. I often found myself admiring the curves and bulges on the bonnet, which are really pronounced when you run you hand over them, and the headlights sit below in a well-propotioned form.

(4.5 / 5)
Equipment
The standard equipment on the Mondeo is pretty good, which is just as well as it's around £1,000 more expensive compared to Insignia SRi VX-Line Nav, which is the equivalent trim, and one I drove earlier this year. On paper, they offer similar features, although the Insignia makes do without automatic lights and wipers, which I'm sure most could live without if push came to shove.
As well as the sporty touches, the ST-Line offers standard features such as 8″ Ford Sync 3 system with navigation, Bluetooth, DAB radio and smartphone integration as well as dual zone climate control, cruise control with speed limiter, and Ford Power Start Button.
The model did have a few options tested though, including LED adaptive headlights, power tailgate, front and rear parking sensors with rear facing camera, inflatable rear seatbelts, active park assist, blindspot detection warning, privacy glass, and lastly, Lane keep assist with traffic light recognition.
This meant the price of this model had swollen from £26,845 to £31,635. That's a fair chunk of money, especially when you consider the equivalent Insignia starts at under £24,000. On a side note, the Mondeo is a big car and it's not the easiest to park, so I would strongly recommend the parking assists if the budget allows.

(4 / 5)
Space And Comfort
This is an area with the Mondeo has its pros and cons. Getting comfortable in the front is very easy as the sport seats are supportive, although a bit leather would be welcome, and getting a good driving position is a doddle thanks to good adjustment in both the steering wheel and the driver's seat. The headroom in the front is more than agreeable, but the same cannot be said for the back.
Step in to the back, which is rather dingy thanks to the privacy glass, and you'll find headroom comes at a bit of a premium. The legroom is better though, but even that is not amazing. The rear will seat three, but even shorter passengers will struggle in the middle, so unless it's a short journey, it's best to reserve the back for two rather than three.
The Mondeo makes up for the somewhat compromised rear space with a decent boot, which is bigger than the Insignia and offers 550 litres, which is not the best in its class, but it's certainly not bad either. If more space is needed, you can fold down the 60/40 rear seats to give you 1,446 litres. If carrying large loads is a frequent task, then you can opt for the estate, which gives you a maximum of 1,630 litres of luggage capacity.

(3.5 / 5)
What's It Like To Drive?
For those of you that think the ST-Line is a return of the cult classic, the ST220, you'll be disappointed. It seems as if Ford has no official plans to make a proper performance version of the Mondeo, but that's not to say this is no good. There is a choice of just two engines, both of which are a 2.0 litre diesel. The less powerful one produces 148bhp, whilst the one fitted in this model offers 178bhp, with 400Nm of torque. Speaking of torque, I found there to be a noticeable amount of torque steer under hard acceleration, particularly in second gear, so that's something to bear in mind.
The power is fed to a 6-speed manual, which is slick and precise to use, making for an engaging driving experience. You can also have an automatic if you wish, but from what I have read, you're better off with the manual in all honesty. Four wheel drive is also an option in the Mondeo, but you will need select the automatic gearbox in order to do so. The model tested may not have the out-and-out performance, but it's not a slouch either – 0-62 comes in 8.3 seconds and the top speed is 140mph. This is nigh-on identical to what the equivalent Insignia is able to offer.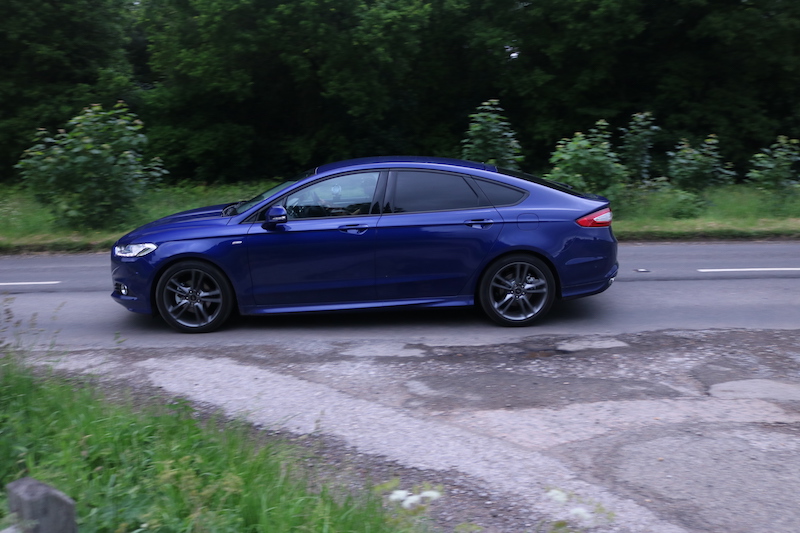 The 2.0 litre diesel pulls well, offering a good amount of grunt in the mid-range, but it's also refined as well. The engine is quiet at normal driving speeds and on the motorway it's happy to cruise at 70mph at around 1,800rpm in near silence. The wind noise isn't bad either, although you will notice the road noise from the big alloys, especially if you opt for the 19″ wheels.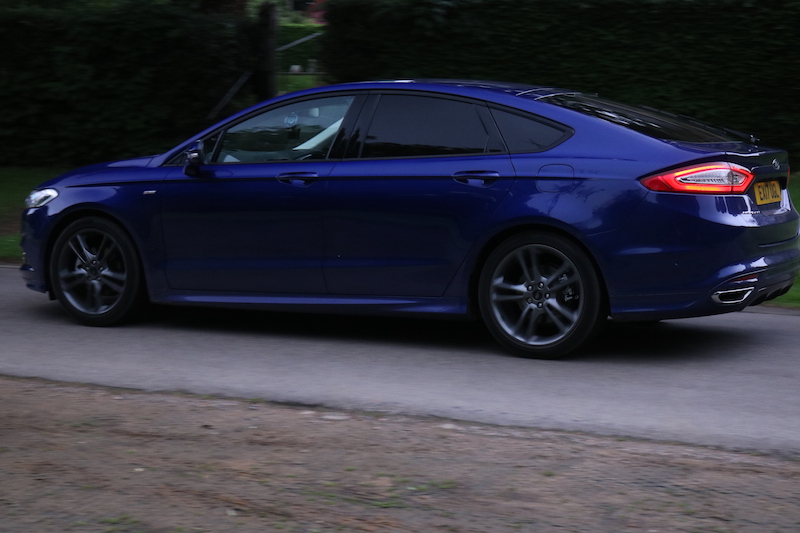 The ST-Line may have sports suspension – 10mm lower than other Mondeos – but don't expect for your back to be broken in to small pieces every time you run over a manhole cover. In fact, the ST-Line is a comfortable place to be and it had no problem eating up the vast of amount of motorway miles I covered in it. Naturally, the ride will become unsettled on poor surfaced roads and the firm setup will be more noticeable, but even then it won't thud in to bumps as you may expect.
So the comfort is good, but I feel it could be a bit too comfortable for its own good – thanks to well-weighted steering and a decent amount of grip, the Mondeo is accomplished in the corners, but there was a bit more body roll than I was expecting. It was by no means terrible, and the sports seats did well to keep me in place, but if you really push the car, you can really begin to feel the car's weight, although through normal driving, I found it to be more nimble than I expected.

(4.5 / 5)
Fuel Economy
As the Mondeo only comes in diesel form, the economy is fairly decent. The more powerful unit fitted in this model has a combined figure of 62.8mpg, which is noticeably better than the 2.0 litre diesel found in the Insignia VX-Line Nav, which offers 54.3mpg. The CO2 emissions are better as well – the Mondeo emits 119g/km whereas the Insignia emits 136g/km.
In my experience, I was able to get around 52-53mpg on a combined run, which isn't too far from the official figure. This means the Mondeo is a good candidate for being a company car, but if more economy is needed, the less powerful diesel can be selected. This is able to offer a combined figure of 64.2mpg with 115g/km.

(4 / 5)
Verdict
The Ford Mondeo may not be as popular as it was once was, but it's still a viable option in my eyes. It's a good looking machine, it's comfortable, and in my opinion it drives better than the Insignia. However, it's not perfect – the space in the rear could be better, the interior is a bit bland and the car doesn't represent the best value. Despite this, the Mondeo is definitely worth considering if you're looking for a car in this segment.
Car Obsession Rating: (4 / 5)
Pros:
Good looking

Smooth, refined diesel engine

Comfortable

Dynamic to drive

Decent sized boot
Cons:
Not the best in regards to value

Lack of headroom in rear

Interior is rather bland
Rivals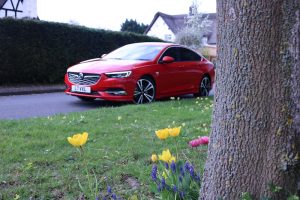 The Mondeo's main rival will be the Vauxhall Insignia, a car that has cleaned up in this sector since its introduction in 2008. It represents better value and the equivalent trim model offers a better choice of engines, plus you can get a proper VXR version, if desired. The inside is a nice place to be, the driving position is lower, but the car itself is not as dynamic to drive as the Mondeo. I also feel the Mondeo is a better looking car.
Volkswagen Passat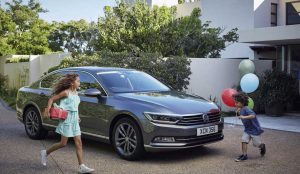 For those looking for something a bit more premium, you can look at the Volkswagen Passat, which offers a more upmarket feel but at a higher price. The equivalent trim – the R-Line – offers better equipment such as a panoramic sunroof and leather upholstery, plus there's a good choice of engines.